This Sunday got off to an early start. With exams coming up, I woke up early and rushed downtown to take advantage of the anatomy lab's special extra hours. The study period only served to reinforce to me how much I have left to study! Some of my friends who really don't project an aura of keen were really quite impressive in the lab yesterday. I really need to get past this feeling of intimidation (of "I have to prove I'm not stupid"), and realize that these people are my peers and my friends... and that if they know X, Y, and Z so much better than me, then I can take advantage of that, just as they can take advantage of the Q, R, and S that I know better than them.
Funny moment though when I was eating lunch and talking to my friend, T, about why our mutual friend, L, had not shown up for lab study.
Andy: Weren't there more people coming today?
T: Oh well I think L is coming. Check her [lab] room.
A: ...L?
T: Yeah, she might already be here. Check her room!
A: ...L is in

our

[lab] room...
T: *blank stare*
T: ...oh SH*T!
I had to leave the anatomy labs one hour before closing so I could make it back to the suburbs in time to be picked up to go to a birthday celebration for my friend,
"Sydney"
. Syd had made plans to go to Mississauga, with the end goal of going roller skating - that old school precursor to roller blading.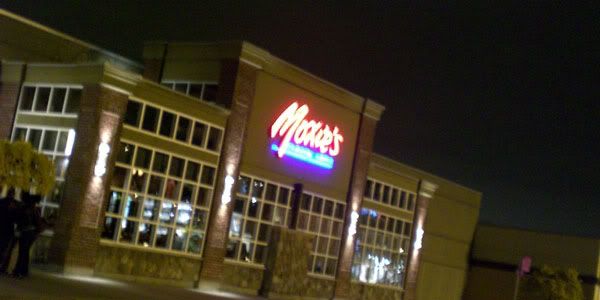 We started the night at Moxie's Classic Grill at Square One mall. It's kind of like Baton Rouge in offering that higher-class-than-average-but-not-posh kind of dining environment. A number of the guests seemed to be grumbling a bit about the size of the portions (small) and the quality of the food. I have to admit, my lamb shank with mashed potatoes and side Caesar wasn't as impressive as I expected, and smaller that what I was hoping for at the given price point.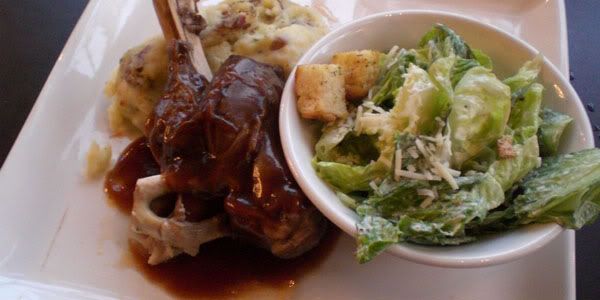 Luckily, the Fish and Chips my friend ordered came with much more copious portions (that tends to happen when things come with "chips"), and I managed to steal a bit of the fish. It was (as expected) very greasy... and actually smelled pretty fishy considering it was fried. The food also didn't seem to sit that well with me this morning... but I'll spare you the details.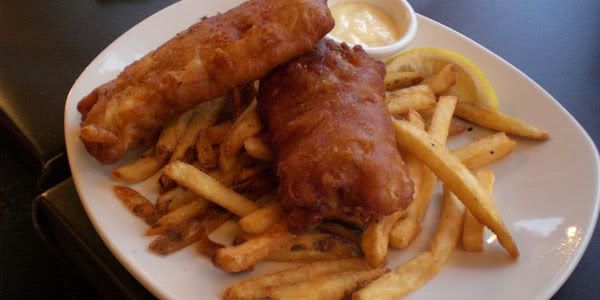 It wasn't a complete loss though. In the end, Sydney got a free white chocolate brownie, which a classmate informed me this morning, is reason enough to go to Moxie's. Happy birthday! Unfortunately, nobody told me about this, so I did not have the pleasure of trying this allegedly amazing dessert item.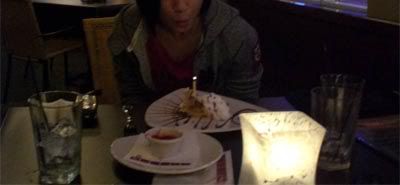 Another funny story though. Since there were so many people sitting at a long table, we ended up with many microcosms of conversation. At one point Sydney (at one end) and the girl at the other end of the table, O, decided to attempt to converse. It went something like this:
S: We're so far apart from each other!
O: It's okay, we both have loud voices, we can hear!
S: Yeah!
O: So when did you get your hair cut?!
S: *points to drink*
S: It's supposed to be a [insert drink name here]!
After dinner we headed over to Scooters, the roller skating arena. We were vaguely disappointed by the size and number of people there, but they did seem to have some pretty impressive tricks up their sleeves. I can understand why people like roller skates since people could do all sorts of backwards skating, side-to-side swish moves, and other
groovy
tricks. I still couldn't help but feel like I was in an old disco flick, though.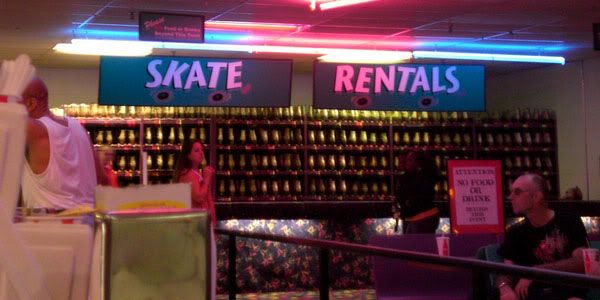 The staff were pretty rude. They were constantly eyeing us newcomers, telling us that we were skating too slow, that we weren't allowed to stop, that we were in the wrong lane, or that we weren't allowed to take pictures. By the end of the night, I was annoyed just to see that red "Staff" t-shirt. I've gave them what I consider the appropriate nickname: "Staffholes"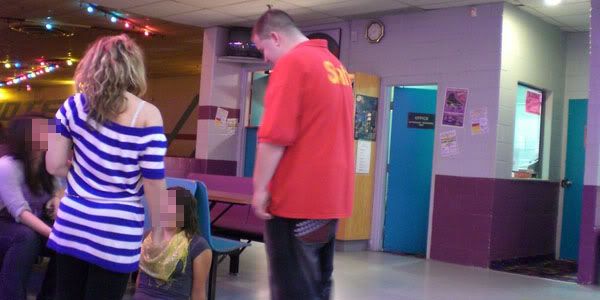 Staffholes in action: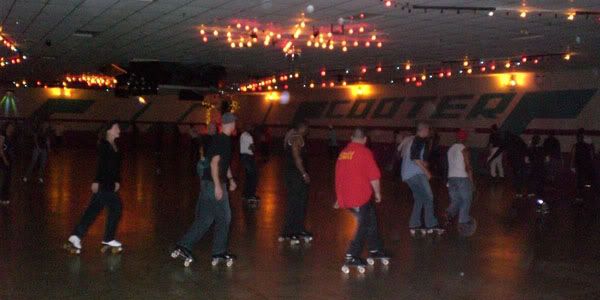 Part of the reason this place was also strange was that most of the people in with us felt like they were older than forty. They could swish around pretty impressively, but it felt like a bunch of disco kids reliving their glory days.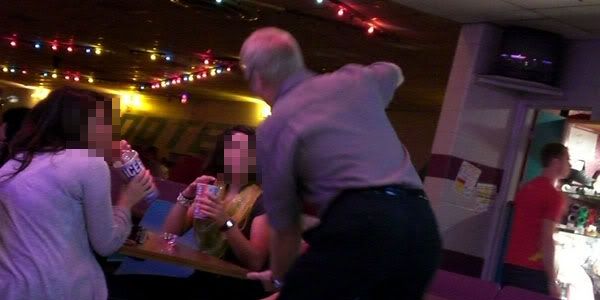 Of course, maybe this is just jealousy talking. It didn't help that I couldn't roller skate for beans. I mean, I couldn't really do much more than skate around in a circle, and even
that
took me awhile to figure out. Two pairs of wheels is definitely different from four in a row.
In the end though, I did figure out why the crowd, and the music, was so old: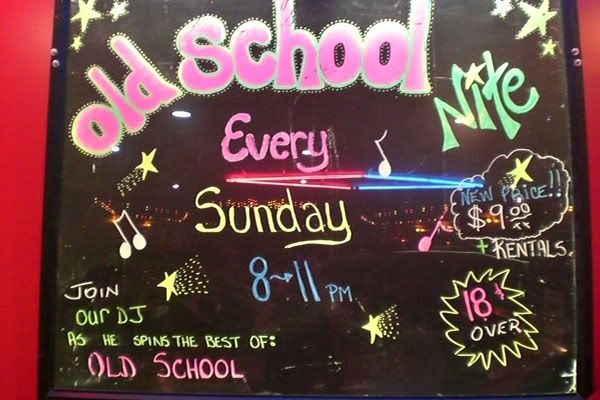 Old School night. Go figure.