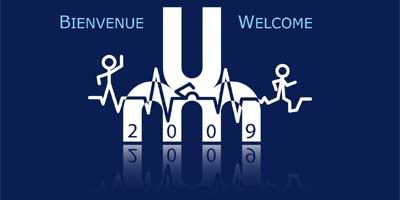 Yesterday I registered for MedGames 2009. It is supposed to be
the
event of the year. Not being particularly sportive myself and having passed up on the opportunity to buy the incredibly ugly University of Toronto MedGames t-shirt, I had considered not attending, but finding out that DDR is a competitive event in the games was enough to change my mind.
For those of you that don't know, while I'm not particularly good, I do like DDR (Dance Dance Revolution) a whole lot. I even co-founded a Queen's DDR Club in my third year of undergrad, which I'm proud to say is alive and well even now that I've moved on.
One thing that concerns me though is that DDR is listed as a "Parasport," which makes me feel kind of like a disabled person for participating. Other parasports include Rock Band, foosball, and cheerleading.
All this Dance Dance Revolution talk reminded me that I wrote an article about DDR in my third year of undergrad. I've now posted it, so please check it out under Writings in the Fantasia ection of the website. Boy, I'm going to have to brush up on my DDR before MedGames!
Oh my goodness! Today it snowed! The other day, I was talking to my friend
Mei
, and she said it already felt like winter. I said that she was crazy because it has generally remained pretty warm (about 12 degrees Celsius in the afternoons quite consistently). But Murphy's Law being what it is, the weather has taken a dramatic turn for the colder. When I got to Finch station to pick up my car this evening there was a layer of frost on the windshield. I couldn't see anything for quite a long time while I waited for the engine to heat up along with the defoggers. It does remind me though that with winter comes snow, and with snow comes
Christmas!
I had to stay downtown until around 8 PM today because I had a Healing Tonics concert. Healing Tonics is a club where medical school students get together and sing to cheer up old folks, sick folks, and disadvantaged folks. Today we sang at Soujourn House, which is like an apartment for refugees. Even though we totally sucked (it was our first concert and only third time singing together), it was a feel good experience and the audience seemed just happy to have us there. There were even a few people taking camera-phone photographs of us.
At the end, the administrator for Soujourn House said a few words about us, and how as medical students we were singing as a way of giving to the residents of Soujourn House, build up friendships, and show them that they are not alone. He also said that hopefully it would embolden the residents to one day share their talents with this great nation of Canada, since they too all have talents. It was really quite touching, so I put on my warmest smile.
The scary thing about today was that when I drove to the subway in the morning it was pitch black, and when I picked up my car in the evening it was pitch black. I lost all my daylight hours at school!