Day 1 - Friday
After making it through my clinical skills session and the subsequent classes, I was pretty excited for the weekend. I was going to Kingston - the home of my alma mater and, currently, of my beloved girlfriend
Evey
.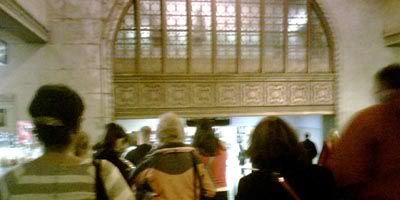 I arrived at the train station, and it was
packed
. Even though I was half an hour early, there was a huge line waiting to board my train (which hadn't even arrived yet). I guess I shouldn't be surprised that Friday afternoon is a popular time to ditch Toronto. While I was in line, I noticed for the first time a fogged window one floor above the Departures floor. Behind the window, I could see the silhouettes of people walking by. I was intrigued, and I still don't know what area of the station lies behind there... I'm inclined to think it is part of the GO Train Station, though Evey suggested it might be part of the Via Rail boarding platform.
Now the train is the mode of travel for champions - it's smooth, safe, and comfortable. As a result, I enjoyed a relatively uneventful ride to Kingston, which I used to become reacquainted with my PlayStation Portable (PSP). Over the course of the summer and the first few months of school, I had forgotten what a robust gaming system this little wonder is. First, I sneaked my way through the demo for
Secret Agent Clank
- a platformer that concluded with a nifty rhythm game, requiring me to hit a sequence of buttons to the beat of music in order to navigate a challenging series of laser trip-wires. This had whet my appetite for more rhythm game action, and I had loaded a whole new set of MP3's onto my PSP in anticipation of this moment.
Beats
is a game that takes your own MP3 collection and with clever beat detection generates a set of steps (or in this case, button combinations) to match. It's like portable DDR, except you get to use your own music - making the replay value endless. Not to mention the production values are pretty slick and it retails for $5 off the Playstation Network (PSN) online store. After this, I had just enough time to try a few minutes of
Puzzle Quest: Challenge of the Warlords
before my train arrived in Kingston. Puzzle Quest blends RPG elements and
Bejeweled
-style puzzle aspects to produce what has been lauded as an incredibly addictive experience. I was itching to try it out, and it sounded like just the kind of thing that Evey would be interested in, so I had actually purchased this game off the PSN store with the intention of playing it on the long train ride. As it turned out, I didn't get to play it that much, though Evey had a pretty entertaining time with it while I was packing on Sunday and while I was busy sleeping in.
Evey was there to pick me up from the train station. It was too late to go out that evening, so we bought some chicken tenders and poutine from the
Lazy Scholar
(an on-campus food retailer) and kicked back for the evening, allowing me to catch up on some of Season 5 for Grey's Anatomy.
Day 2 - Saturday
While Friday was mostly just arrival and settling time, Saturday was going to be our real day out. We started the day with brunch at Megalos. Megalos is one of Kington's many fine dining experiences. I know many of you may be dubious that a city of 116,000 (smaller than Richmond Hill) whose population consists primarily of university students and prison inmates can have much to offer a Torontoian when it comes to food - but you'd be dead wrong. For a city of it's size, Kingston more than holds its own when it comes to restaurants. If you need a demonstration of just how key food is in Kingston, just check out this
online directory
of restaurants in Kingston as well as information on their menu, delivery, and whether they are open or closed. How many university cities have this level of claim to convenience?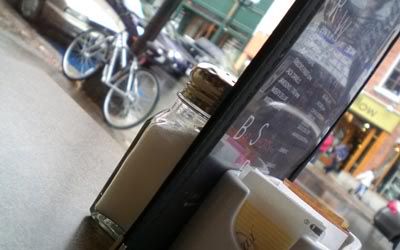 Megalos is a trendy little place with a warm feel and modern style, complete with a stylish metrosexual waiter. While I wasn't blown away with their dinner, their brunch (served until 3 on Saturdays and Sundays) always hits the right spot for me. It's not that the food is overly elaborate, it's just cooked to perfection.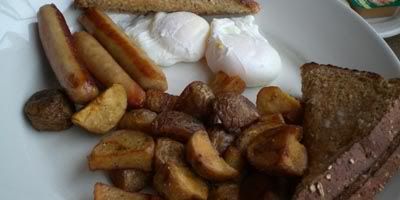 I ordered "the Original" for $6.99. It offered toast; homefries; your choice of bacon, ham, or sausage; and two eggs cooked however you like. I went for the breakfast sausages (because I love them) and two poached eggs. This photo really can't do the taste justice, but eating this meal was totally worth the new zit that magically appeared on my face the next day.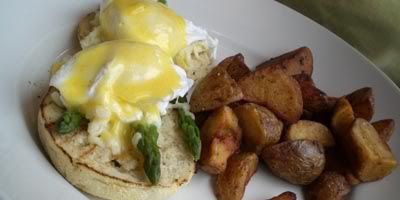 Evey ordered the "Oscar" - Eggs Benedict with asparagus and homefries. Again, it's not the most exotic looking dish, but we can't fault the taste or the presentation.

I just wanted to also mention that this meal was my first opportunity to ever use Orange Marmalade (which, by the way, was awesome). This, of course, is amusing because it immediately made me think of
Paddington Bear
. If you don't know who Paddington Bear is, then... well... shame on you.
After brunch, we headed over to one of Canada's many RioCan shopping centres to do some boot shopping for Evey. After hustling back and forth between Winners and the Shoe Company, we dropped by Future Shop just for fun. We were shocked by the sheer number of accessories being marketed at people who play
Rock Band
. The above set looked more like
Maximus
' Halloween
costume
than anything that I would want to wear playing a video game... It's complete with wig and shutter shades.

Our shopping trip also served as a pungent reminder of what retarded drivers people are. This included a whole line of cars parked in spots that were not actually parking spots (despite there being plenty of spaces just one row down) as well as this fella parked shamelessly diagonal.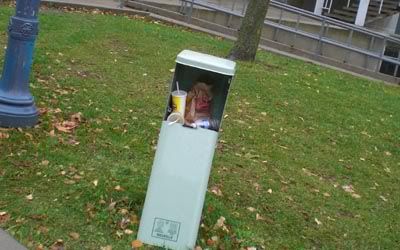 While we're on the topic of retardation, I had another "what the heck" moment walking by this important looking box outside Stirling Hall (the Queen's University physics building) to see this Wendy's trash stuffed inside. Yes, I did go to this school. And yes, there are a lot of stupid people here. Reminds me of one time someone hung a running shoe from the telephone wires running down the street - how they managed to get it up there is completely beyond me. Undergraduate antics were actually one of the reasons why I wasn't sure if I wanted to drive up to Kingston and park my car on campus overnight. But seriously, stuffing garbage into what may be an important electrical thingamabob doesn't seem like a good idea to me, even if we ignore the littering. Somebody needs a lesson from
Captain Planet
.
After our shopping extravaganza, we ate dinner at Queen's Leonard Hall cafeteria. There we met up with some of Evey's friends, including one of my buddies from Queen's
DDR Club
(may it live ever so long and prosperously).
Then we headed over to Chalmers United Church to catch a special choir performance being directed by Evey's music professor. Evey is doing a minor in music, with her instrument being the organ. I think that's pretty neat, since organ is a pretty grand but relatively rare instrument these days (though I'm sure it was completely ubiquitous back in heydeys of Roman Catholic influence).
We closed the evening with a little downtime, and of course, I fully caught up on Grey's.
Day 3 - Sunday
We barely made it in time to St. James' Anglican Church, which always holds a very charming service. I wish I had thought to bring my camera, because it has the most gorgeous stained glass I've ever seen.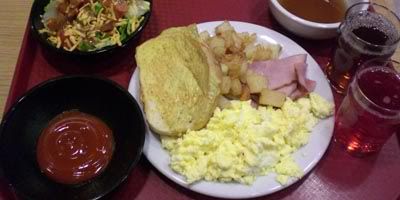 After church, we went again to the cafeteria, this time for brunch. Brunch was always my favourite meal of the week throughout four years of living in residence, and I have to admit that the Queen's cafeteria's offerings are pretty solid. But while you might be tempted to think that this food actually looks better than my meal from Megalos, looks can be deceiving - the two meals are not even on the same level in terms of quality. What I
was
impressed with is that Queen's got some fancy new juice machines for the cafeteria. I guess they got sick of the old ones breaking down all the time, not to mention the nasty, sticky gutters that always got filled to the brink.
We spent the rest of the afternoon just chilling out. I packed up, and we did some reading together. I also practiced doing vital signs for my clinical skills course on Evey, since I have been feeling ill-prepared for my patient interactions. We finished the evening with Japanese food from
Asha
Sushi. I got my typical Bento A... Mmm.... Although it seems they jacked up the prices recently. After that, it was time to head home. We said our gloomy goodbyes at the train station and then off I went.
It was a terrific weekend filled with fun, bonding, and realizations of my Puzzle Quest suckiness.