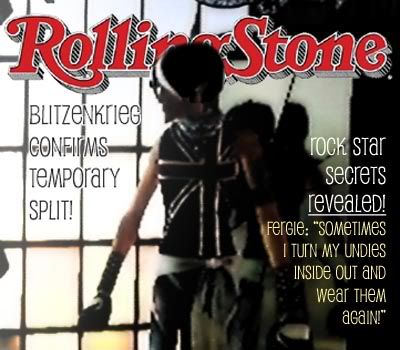 B
LITZENKRIEG, the rock sensation that has been gripping the world, has announced that the band will be splitting up "temporarily." The news comes in the wake of their ravishingly successful
Christmas tour
.
The band first got together in the suburbs of Toronto under the auspices of
Harmonix Music Systems, Inc
. Guitarist Andy was born in London, England and has reportedly been trying to
up his game
through a rigorous training regimen. He's known for his wild,
emo
hairstyles and quasi-preppy fashion leanings. The multi-talented Lola - drummer and sometime bassist/vocalist was born in Seattle. Her unpredictable outfits, including a superhero cape with knee-high socks, have inspired idol worshiping teens and
tweens
transcontinentally. Finally, on-and-off drummer
Evey
has brought her New York fashion sense, mesmerizingly short skirts, and keen hand-foot coordination to a number of the band's
key performances
- much to the delight of audiences.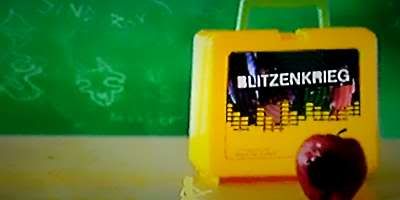 Blitzenkrieg's name derives from Santa's reindeer
Blitzen
(whom band members have described as "the most badass reindeer of them all") as well as from the German tactic of "lightning warfare." Indeed their rise to fame has been quick as lightning, and like a flying reindeer, continues to soar to new heights. Merchandising has roared action - every school child and office worker seems to be eating out of a Blitzenkrieg lunch box and have a Blitzenkrieg poster in their locker or cubicle. In a stupifying and record-breaking feat, the band ripped through the charts and attained a spot on Rolling Stone's "Rock Immortals" list just one and a half weeks from their initial debut. This also makes them the shortest lived band to ever achieve such a distinction in rock history, rising and falling faster than most Boxing Week sales.
Lola is apparently leaving to pursue "other career interests" while Evey has cited her desire to go back to school and finish her university degree quipping, "Christmas break is over, [dude]."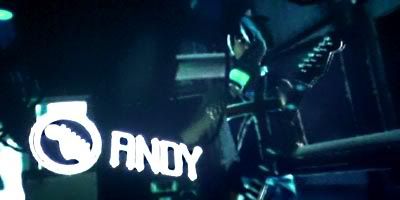 Asked what his plans for the future were, Andy replied confidently, "I'm going to try my hand at a solo career. I'm a pretty decent scoring singer, so I think I can keep on rockin' alone, mate." After a brief pause, he added, "But don't worry. Blitzenkrieg will be back. Just you wait and bloody see."
RELATED ARTICLES:
Activision Reports Sluggish Sales for

Sousaphone Hero
Gibson Sues Over Guitar Hero