Oh dear... studying is not going as well as I had anticipated. I'm trudging along just trying to be ready for my (minor) histology examination on Monday. Meanwhile, studying for my (major) biochemistry examination on Thursday has been shelved; which may lead to a massive panic attack on Tuesday and Wednesday when I will have some dedicated biochemistry time.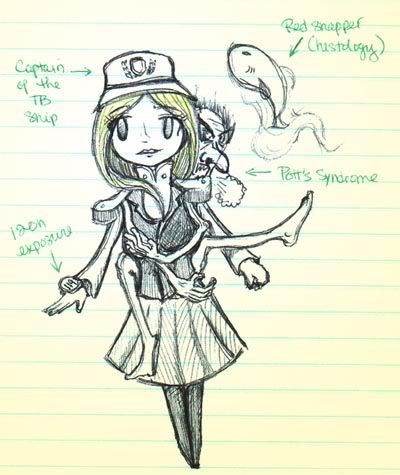 Here is the second sketch that
Maximus
and I put together during our
lectures on schizophrenia and tuberculosis (TB)
. This one encompasses the TB side of things.
Tuberculosis
is an old and deadly disease that has been known by many names over the ages (phthisis, consumption, etc.). The treatment of the disease has varied over the years - moving from institutionalization, to hospitalization, to the community. At one point, our professor describes, TB ships were commonly sent out to test coastal villages for the disease. Upon finding an afflicted person, they would hustle them aboard and take them away. It's for this reason that my illustrated lady is wearing a naval uniform.
Clinging to her back is a TB-afflicted person with
Pott's Disease
, a TB-associated spinal arthritis that often leads to anorexia, weight loss, and muscle weakness. I was inspired by a particular costume in
Rock Band
, with a creepy gargoyle clinging to the back of your character. Maximus' contribution was the afflicted person's ghastly face.
The Captain is wearing a watch that reads 119 hours. This alludes to a comment the speaker made that an estimated 120 hours of exposure are necessary to contract the disease (so living with someone who has TB puts you at the highest risk). Above her head flies a
Red Snapper
(it's obviously not accurate, since I had no idea what a red snapper looks like, just that it's a fish), because under a microscope, TB is supposed to resemble this kind of fish.
Now cram... cram like there's no tomorrow...