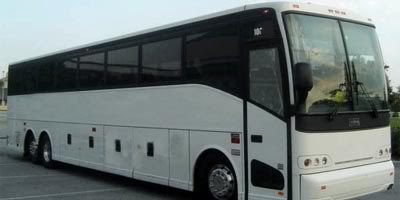 [Continued from
d0
]
Friday, January 9, 2009
Kushima
and I had decided that in order to get good seats on our 8 AM bus to Montréal for
Medgames
, we would arrive at the pickup location at 7:45 AM. This meant getting up between 6:30 and 7 AM in order to get ready and eat breakfast (there was no telling when we would get lunch), and getting out the door no later than 7:30 AM. We awoke sleep deprived and caught our bus, counting on the fact that there would be plenty of time to rest up on the 6 hour bus ride awaiting us.
For the first half of the bus ride, we just talked - Kushima is a pretty sincere person and likes to spend as much time as possible connecting with friends. In this case, we discussed the core beliefs underlying Christianity (a similar though less comprehensive examination can be found in the
Faith
article under
fantasia > writings
of the website). I was more than happy to do so, as faith is an
important topic
to me. At the same time, our fellow riders had started to watch the movie
Anchorman
from the on-board televisions.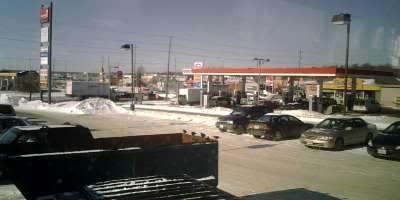 Several hours into the ride, our bus got off in a nearby city and stopped for lunch. There were plenty of food establishments around - McDonald's, A&W, Tim
Hortons
, and more.
Kushima
,
Yuffie
,
Yubin
, and I ducked into the McDonald's where I ordered a
Filet'O'Fish
meal and 6 Chicken
McNuggets
. As we sat down to eat, someone noticed a picture of Kingston in the 1920's on the wall. "Are we in Kingston?"
"
Are we?!
" I asked eagerly. Kingston is the home of my
alma
mater,
Queen's University
, and the school that my girlfriend,
Evey
, still attends.
Yuffie
cleverly thought to check our receipts, which sure enough said McDonald's in Kingston on
Division St.
I hadn't recognized the surroundings because, unlike Evey, I usually take
Sir John A. MacDonald
on the way into the city versus Division. A dozen hair-brained schemes shot through my head as to how I could visit Evey and yet not miss my bus. However, by that point, there were only about 40 minutes left. Assuming a 5 minute cab arrival time and a 15 minute cab ride each way, the time I would spend with Evey would be virtually zero and the chance of being stranded in Kingston was still very high - which actually sounded quite nice, except for the fact that I had sunk quite a bit of money into
Medgames
and would have had to find my own way home afterwards. Still, I took advantage of being in the area and shot off a local call from my cell phone.
As it turned out, Evey, who was equally eager to see me decided to take a cab out to where I was. Because she didn't have to go back home until after the bus left, we saved ourselves the 15-20 minute return ride that would have eaten out of our time if I had gone to where she was. Also, because I was staying in the correct vicinity, the chances of missing the bus were considerably lower. My friends watched my back by ringing me up when the bus was getting prepped to leave. I bought Evey a Big Mac and we hung out for 20 minutes or so. It was a really precious and unexpected surprise to be able to catch those 20 minutes of face-time together.
Returning to the bus and resuming my journey, I found my sleep deprivation catching up with me. I was deathly tired. However, a minority of riders who were intent on watching television kept cranking the volume ever higher. This made it virtually impossible to sleep, much to my chagrin. When Anchorman was finally over, they decided to pop in the DVD for Season 1 of the television show
Arrested Development
. I have to admit, the show was actually quite amusing... but I had counted on getting some sleep on this bus ride. My mind was not holding up well - my eyes were starting to hurt from looking at the tiny yet attention-grabbing screen and I had a splitting headache from my attempts to sleep through the video. When we arrived in
Montréal
at last, the energy and cheer of lunchtime had been sapped, leaving an annoyed and irritated Andy in its wake.
Kushima
and
Yuffie
were similarly perturbed.
We checked in, registered, and dumped our belongings in the hotel. The
Medgames
2009 t-shirt was quite nice, but I was rather disappointed by the cheap plastic water bottle they offered up to us. I also wasn't really sure if they expected us to
use
the complimentary condom they included in our goodies bag - especially given that we were packed 4-to-a-room.
We took a shuttle over to the University of Montreal's sporting facility,
CEPSUM
(
Complexe
sportif
de
l'Université
de
Montréal
) where we were afforded a modest brown bag dinner. Mine included some veggies, pasta, juice, an apple, a chicken wrap, and a brownie. It was not bad, but it was probably the cheapest food I've ever had to eat in
Montréal
. Given
Montréal's
richness in culture and available cuisine, it really is a shame that they left so many Canadians with this impression of food. In fact, we were fed similar food for three other meals (2 breakfasts and 1 lunch). Given that there was no kind of formal event, we did not even get a proper dinner. Rather, we were shuttled up and served cafeteria food more or less on par with that served at
Leonard

caf
at Queen's (although the dessert was better). Still, it was better than the thin, hard pizza we got at
OMSW
.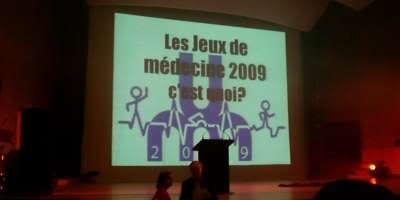 After dinner, we trudged our way up
Mont Royal
in the
Montréal
cold and snow to the lecture theatre where the opening ceremonies were being held. There was a brief sponsor spiel by the financial group
Desjardins
, followed by a speech by
l'Université
de
Montréal's
Dean. Then there was a skit performed using both English and French, but mostly French, much to the vexation of the anglophone attendees. Indeed, since this was the English version of the opening ceremony, it didn't quite make sense.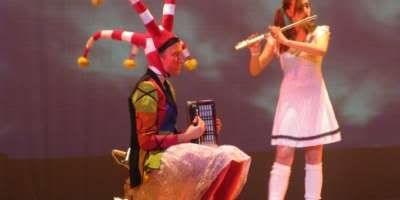 Next there was a very interesting and eclectic artistic performance by
Montréal's
student body. It was very abstract and
reminiscent
of
Cirque

du

Soliel
. I was so tired that I fell asleep on and off throughout the very extensive performance. None of us really understood what the performance was supposed to mean in the end, but we certainly appreciated the artful French culture it was imbued with.
After the opening
ceremony
, we headed over to
CEPSUM
to watch
Kon
, who was scheduled to compete in badminton. The arena was essentially a rectangle partitioned into two squares. In one square, volleyball was being played; in the other, badminton. Along both long sides of the rectangle, there was seating for spectators. There were four doors on each side to let spectators in. We originally began watching
Kon
play from the far side, but decided to move to the closer side in order to cheer him on and get a better view. Some of our friends were already there.
We exited the arena and weaved our way around the building to get to the other side, only to find that 3 of the 4 doors opening to the spectator seating were locked. One door was open, but it was on the volleyball side. Because the volleyball side was not
Medgames
, the volunteer guarding the door would not let us through even knowing that we were just going to slide our way over to the badminton side. After arguing with her for quite a while and being yelled at, we gave up, rather frustrated. Instead, we had to watch pathetically through a series of tinted windows behind the seating. Visions of taking a sledgehammer to that plastic barrier danced through my mind.
The day had not gotten off to an auspicious start - an irritatingly loud bus ride, an unintelligible opening ceremony, and now our attempts to cheer on our friend were being most nonsensically blocked.
We headed back to the hotel and got dressed go out. The organizers had arranged for us to party at the Centre
des
Sciences
de
Montréal
(a
Science Centre
-type location in
Montréal
). This was, admittedly, very cool. The exhibits had been shut down and the halls had been converted into a giant club to house the 2000+ medical students in attendance. Strobe lights, deejays, and alcohol were the order of the night. It was a very unique venue to be partying in and I applaud their ability to organize it.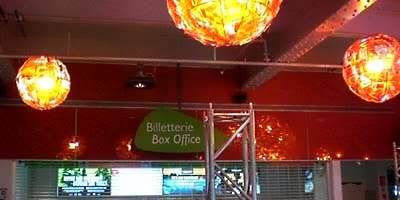 Still, the novelty of the location soon wore off, and the night descended into the familiar scene of clubbing. I diffidently attempted to dance while being shoved to and fro by strangers (even more so than usual) and acquaintances alike. After somewhat enviously partaking of
Max
's ability to bring life to the party, astonishingly resisting the urge to elbow pushy strangers in the jugular, and nauseatingly watching as my friends received heaps of attention from slimy man-whores... I decided it was time to pack it in. I had arrived around 11 PM and headed back to the hotel around 1 AM.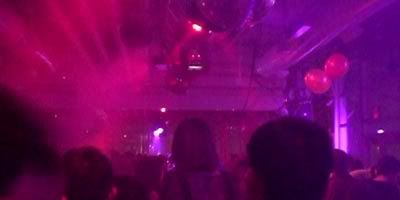 At this point in the evening, I was starting to question my attitude. It seemed, after all, that I was determined to not have fun on this outing - like a little kid throwing a temper tantrum or a teenage girl throwing a pouting fit. But it was challenging for me to turn my attitude into one more cheerful and fair to the people around me. I was simply in a foul mood. I was aware of this problem, and wanted to keep the negative vibes to myself, but out they seeped anyways.
Luckily,
Kon
,
Kushima
,
Yubin
, and
Stewie
had also become tired of the clubbing scene, and had returned at almost the exact same time as myself. Determined to make the most of our time together, we played
Big Two
late into the night. To spice things up a little bit, we played for money - 10 cents a card. This seemed to particularly pique
Kushima's
interest, who was determined to pay off his tuition with winnings.
After a couple of hours, the winnings and losings had stacked up quite significantly, with
Stewie
the undisputed winner. He was up almost $10.
Kushima
had more or less broken even, and
Yubin
and I were down about $5 each. Despite the significant monetary losses I incurred, our time together was
genuinely
warming and appreciated, and I managed to go to sleep calm and content... at about 4 AM.
To be continued...