This weekend, I rode into Kingston on train number 6
4
. I sat in car
4
in seat number
4
. I couldn't help but ponder what an
unlucky
arrangement this was for a Chinese person. The only way it could possibly have been worse is if my train number had been
44
. It was made all the more irksome by a friendly VIA Rail attendant who came by and drew a giant 4 on my ticket, as if I hadn't gotten the idea already. Still, I arrived in Kingston alive (if a bit late), so I guess those Chinese superstitions of my untimely demise were all for naught.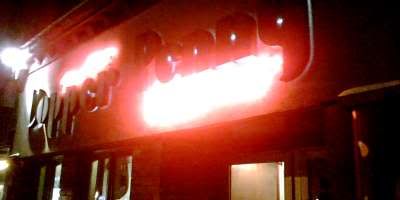 Evey
met me at the train station, and after a kindly cab driver discussed with me the ins and outs of parking at Queen's, Evey and I headed for dinner. We decided to eat at the
Copper
Penny, a restaurant along Princess Street (the major artery of "downtown" Kingston). It's funny, but in my four years at Queen's, I'd never eaten at the Copper Penny before. In fact, now that I no longer go to school in Kingston, I feel more compelled to explore the locales than I did when I did study here - probably because once Evey graduates I won't have much reason to come back here and I will have missed my opportunity.
An additional reason that I tended to steer clear of the Copper Penny was that last year, when I lived in residence, we each had name tags on our door. Every name tag featured a different Kingston location with a one-line description. Mine was the Copper Penny, and it read something like this: "A great place to catch a bite to eat, but costs more than a penny." I had considered this code for "It's expensive."
This time around, I was eager to try something new and felt like I should give this relatively well known dining establishment a try. It was not nearly as upscale as I thought it would be, with the food falling into about the
Kelsey's
range of price and quality (though without the cookie-cutter big chain feel). The portions were very generous and our waitress was extremely helpful and friendly. McDonald's used to always gush about their "free smiles", but in practice, it's so rare to receive genuinely cheerful service staff that it's a real boon when you have them.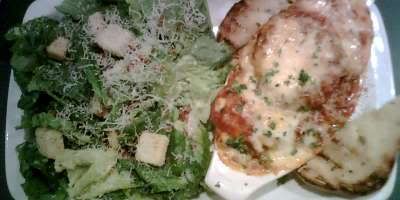 I ordered cheese ravioli, which came with a Caesar salad. It was a bit on the bland side, but the ravioli were really neat. First of all, they were gigantic - probably twice the size of your average ravioli. Second of all, they were circular as opposed to the typical square shape, which really gave the impression that this was a genuinely "Copper Penny" creation. They came on a little dish off to one side of my plate, so it didn't look like much; but they were stacked up pretty good, so there were at least six or seven... pretty filling stuff.
Evey's dish was an even greater challenge to finish. It came with three pieces of breaded fish of different varieties, fried shrimp, French fries, and coleslaw. To my eyes, it looked like a heart attack on a plate, so I offered up some of my Caesar salad, which by that point had been slowly making its way to the other side of the table regardless. We didn't end up finishing all of Evey's food (all that breading...!) so we packed it to go.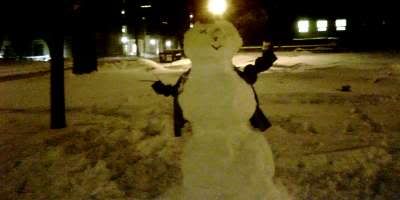 One last item of interest that we passed on our way back was this life-size snowman. He's a pretty cheerful looking guy, which may have something to do with the fact that someone donated their jacket to him. You know, usually snowmen have to settle for being naked.