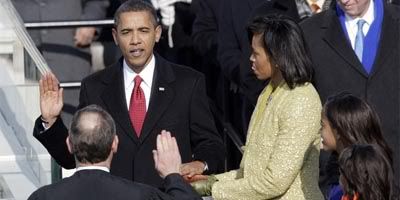 Barrack
Obama's
presidential inauguration went off today without any problems, except some
minor glitches
when taking the oath of office. While much of the world was captivated, I had to admit that I was fairly unexcited for the event. I am, of course, excited for the man, and the change and spirit that he represents. But it will be (at best) months or maybe even years before substantial solutions to America's great problems are in place.
My greatest worry was perhaps a silly one (though not one to be ruled out, I think): that Obama would be assassinated during his inauguration. Chortle if you must, but the 44
th
president of the United States of America seems like a fairly high risk target for assassination.
Certainly, he is popular (not just in America, but globally)... but JFK was popular too, and that didn't stop him from being assassinated. Obama represents change, and whenever someone with power truly means to shake things up, there is bound to be resistance. There are also the less rational prejudices floating around - that Obama is too liberal, too Black, too...
Muslim
? As preposterous as these claims may be, they demonstrate reasons to be concerned about
Obama's
safety. Though we like to think of Western society as being civilized and upright, many high profile individuals have been assassinated over the years - we can be a lot shadier than we like to admit.
There were also Hillary Clinton's
controversial remarks
during the race for the Democratic presidential nomination back in May, which some interpreted as anticipating
Obama's
assassination and her succession
therafter
:
"My husband did not wrap up the nomination in 1992 until he won the California primary somewhere in the middle of June, right? We all remember Bobby Kennedy was assassinated in June in California. I don't understand it," she said, dismissing calls to drop out.
So what does it take to keep a president safe?
Apparently
, 42,500 police, soldiers, sailors, national guardsmen, and undercover agents; surface-to-air missiles; fighter jets; gunboats... and one sexy, new Cadillac limousine.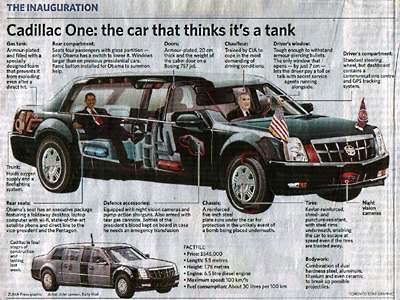 Obama's

ride is a tank in car's clothing. What kind of defenses are

this

Batmobile

wannabe

"Cadillac One" packing?
20 cm armour-plated doors, as heavy as cabin doors on a Boeing 757
Five-inch reinforced undercarriage able to withstand roadside bombing
Kevlar-reinforced shred-and-puncture resistant tires with steel rims, enabling the car to escape at speed even if the tires are blasted away
Armour-plated gas tank filled with specially designed foam, preventing explosion even after a direct hit
Night-vision cameras
Stowed-away shotguns, tear gas cannons, and vials of

Obama's

blood for emergency transfusions!
30 L/100 km fuel efficiency (to compare, the 2009 Toyota Matrix rates about 8.1 L/100 km)

$545,000 price tag

Of course,
that'll
only keep him safe as long as he stays in the car...