This weekend my family descended upon North Carolina to mourn the passing of my aunt. It was the kind of gathering that she had always wanted at her place, and we all regretted that it had never happened under better circumstances. The viewing, service, and burial were all very graceful but surreal. There were many tears shed, some by family members that I had never seen cry before in my life. After a challenging five and a half year battle with cancer, my aunt made her final journey home to a better place. I had to pause and consider the composure of my uncle, who busily organized the funeral and offered strength to friends and family, though it was probably most difficult of all for him. To the end, my aunt was positive and giving in spirit, and she was an inspiration to all of us by the strength of her character and her faith. We will fondly remember her and how she touched all of our lives.
Because of the solemn and personal nature of the occasion, I'm going to leave my account of the funeral at that and switch gears to the more lighthearted and entertaining happenings this weekend.
---------------------------------------------

I'd been to Pearson International Airport on many occasions, but usually to send off or pick up one of my siblings. It felt like a long time since I personally had last travelled the skies. Indeed, I think the last time may have been a family trip to
Hong
Kong after my first year of undergrad. Pearson's new Terminal 1 is a bright, spacious, and glistening edifice on par with any modern international airport the world over.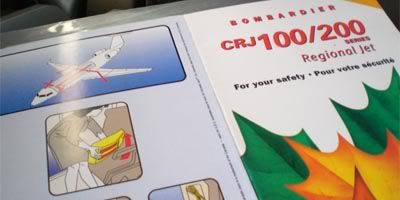 Because of the short distance, my dad and I flew on a
Bombardier
CRJ
100/200 series Regional Jet. I was happy to see a world-class Canadian brand like Bombardier getting some love. Bombardier also produces the
high-speed trains
in China. Unfortunately, Canada has not had the foresight to buy any of those Canadian-engineered high speed trains for ourselves.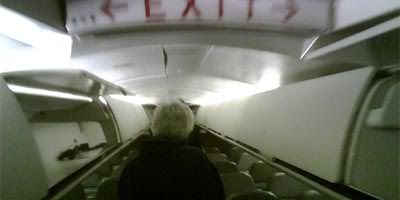 My travel experience is limited, and I've only been to hot tourist locations like Orlando and
Hong
Kong. Thus, the twin jet engine
CRJ
was the smallest plane I had ever been on. It had two seats on either side of the aisle. As I walked down the aisle, my head almost touched the ceiling and was boxed in on either side by the luggage compartments. I immediately felt rather claustrophobic. My brother who flew in from Montreal, however, flew on an even smaller aircraft with a one-two seating arrangement. On the way back out, he flew on the still smaller
Dash 8
propeller plane.
The small size of the plane made every movement all the more palpable. While it was not my first time on an airplane, I was exhilarated by the force of acceleration, the bounce as the aircraft teetered between the ground and liftoff, and the little rumbles that could be felt from passing air turbulence. The ascent felt almost like a roller coaster - with almost an expectation that the engines would shut off and we would go plummeting down the "hill."
Our one and a half hour flight (not including the hours spent in the airport) included a complementary snack. I ordered an orange juice, which came with a cute package of "Turbo Sticks: Snacks for the Jet Set."
My dad had picked us the rearmost seats on the plane. This was an annoyance because they seemed to be the only seats that were unable to recline (since they were backing right against the washroom). However, I did get an excellent view of the wing. This made the landing extra exciting because not only could I anticipate the thunk as we touched down, but was able to watch all the flap movements including the
spoilers
popping open as we hit the ground.
As a
sidenote
, apparently Americans don't say "washroom." They only use the words "bathroom" and "restroom." Since I use the word "washroom" all the time, I got unintelligible stares from restaurant staff ("I'm looking for the washroom?") and teased by my cousin's friend (followed by jokes regarding "
aboot
", "eh", and my snowshoes).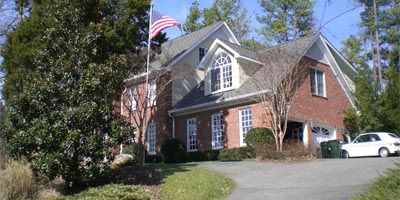 North Carolina is American dreamland: large houses, beautiful roads, warm weather, and big cars. Because the temperature was somewhere in the order of 15 degrees Celsius this weekend, we decided to go for a walk around the neighbourhood on Saturday.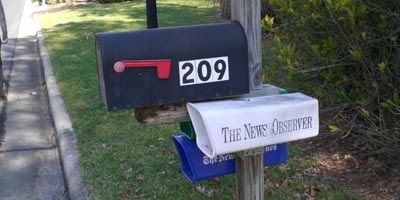 One house had a classic mailbox with little red flag and all. In addition, they had little boxes for each of their newspaper subscriptions to be slotted into. Service with a smile!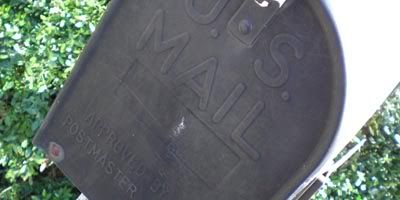 The mailboxes are U.S. Postmaster approved.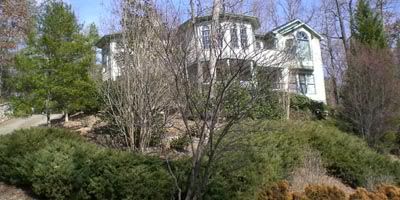 Beautiful homes are built on the high ground, as if they're expecting an invasion of some sort.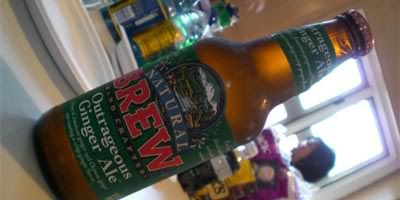 At mealtime, we had some classic-looking bottled Ginger Ale. Because of the bottle, it actually looked a lot like beer. When my mom saw it, she freaked out and exclaimed, "You're drinking beer?" I couldn't help but break out laughing, to which she put forth a frustrated, "What?
Whaaat
?!" I plunked the bottle in front of her so she could read.
My follow up question was, "So what if it was a beer?" I mean, how old does she really think I am? Lucky for her I think that beer tastes like piss. Incidentally, my brother told me that when he was little he used to drink Ginger Ale specifically because it looked like beer - so he could pretend that he was older, suave, and alcoholic I guess.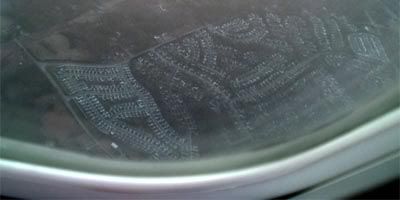 On the flight back, I got a decent picture of Raleigh from above. The tiny little blocks that look like cars lining winding streets are actually houses. Raleigh has hundreds and hundreds of these identical little suburban homes lining inefficient
cul
-
de
-sacs and all crammed together. It truly is suburbia incarnate.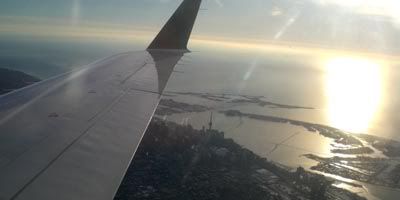 After you fly into somewhere like North Carolina, you start to appreciate just how big a city Toronto really is. From the air, city spans as far as the eye can see. I managed to catch a pretty satisfactory shot of the Toronto islands. You can also make out the pinnacle of the
CN
Tower.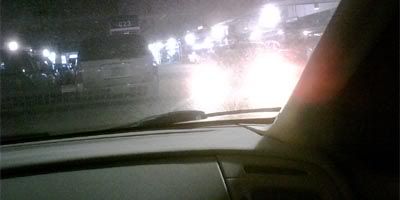 When it came time to pick up our car from Pearson
International's
parking lot, the standard operating procedure is pay first, pick up your car second. However, I guess my dad was afraid that we would not be able to find our car so he opted to find the car and drop off our luggage first, go back and pay second, pick up the car third.
When he went off to pay, he left me in the car alone. However, because usually when people see you loading your car they expect you to leave right away (having already paid), there was a car waiting for our parking spot. This person had particularly ample patience and thus made me quite uncomfortable by staring me down for the ten minutes it took my dad to return with his paid ticket in hand. I managed to sneak a photo for the blog.