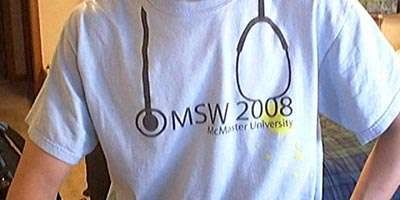 While
in North Carolina
last weekend, my cousin's friend took note of my
OMSW

2008
T-shirt, which I frequently wear indoors.
Cousin's friend: Hey, is that a stethoscope? That's so clever! Where did you get that?

Andy: Oh, I got it at the Medical Students' Weekend.

Cousin's friend: That can't be right. Medical students don't

have

weekends!

Andy: Sorry, you must be confusing us with

real

doctors.
["
Lub

-dub
" is the sound of the heart through a stethoscope]