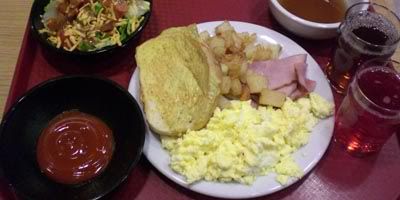 I was eating a Chinese bun and juicy pear for breakfast with my sister (who is in town for the week) and parents when it struck me:
Andy: Hey, we learned in class that you shouldn't eat carbohydrates first thing in the morning. You should start with some protein or fats first so that your blood glucose doesn't go up as fast.

Dad: Oh? Okay, explain this to me. I understand for like fruits and stuff... but carbohydrates too? I mean, it takes your body time to break them down - they're polysaccharides.
I scrambled my brain for an explanation, but I had none. All I could remember is that Soon-
Yi
Swift* ate an
omelet
for breakfast...
...


*Soon-

Yi

is a fictional marathon runner invented for the purposes of our Metabolism and Nutrition course. We've been following her training for the Beijing Olympics in class and learning about the changes in her blood glucose levels with and without food and exercise.