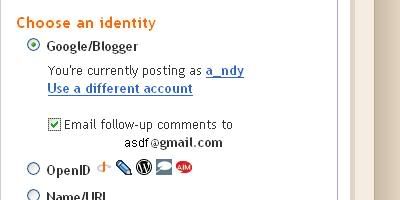 While chatting with
J-Rock
, I learned that he found it necessary to check back frequently for replies to his comments. I thought it would be a useful feature if one could subscribe to the posts on which they had commented and be notified of replies by e-mail à la Facebook.
After a little research, I discovered that this
is
in fact possible. Simply log into your Google account and then, when posting, tick off the "Email follow-up comments to" box. You should be notified next time someone posts a comment on the same entry. Hope that helps!
If you're finding it too cumbersome to log in to your Google account each time you want to comment, then I would recommend checking off the "Remember me" box. The next time you click "Sign in" on the nav bar, you will be automatically logged in without having to type your password again.

With that said, keep the comments coming!