After four years of undergrad, I find myself not in the throes of an advanced graduate program but... back in
high school
. Yes, hearkening back to those years of naivete, I once again live at home, have a prescribed lunch hour, go to class for a full day, stash my belongings in a locker, and... get
March Break
off. While I am in many ways disappointed that I didn't get the prototypical Canadian anomaly known as
Reading Week
(resulting in my nonattendance at this year's Auto Show for the first time in half a decade), I can't say I am dissatisfied with the current dearth of lecture.
Tomorrow, I depart for the Big Apple to celebrate my uncle's birthday jointly with members of our two families. On Friday, some of my friends asked me what I planned to do for the few days I had before the start of my trip. I knew, however, that no plans were necessary. Time is like lightning - it's gone in a flash.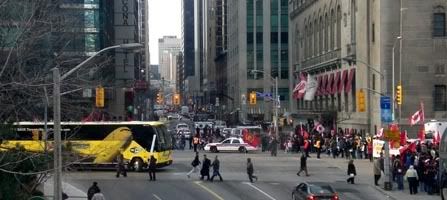 On Monday,
Yuffie
and
Yubin
hosted a Korean barbecue night at Yuffie's condo. I had planned to get off at Union and walk along Front Street. Little did I know that Union Station was the epicentre of a major planned protest by the Toronto Tamil community. I walked out of the front door into a thousands-strong mob shouting and hoisting Tamil flags. I have to admit, I was pretty scared as I briefly tried to navigate the crowd. I'm glad that I live in Toronto where protests are generally peaceful, rather than in more activist (and violent) communities such as Montreal, Seattle, or any of a number of European states.
Sri Lanka has been embroiled in a civil war for 25 years. The Tamil rebels, known colloquially as the Tamil Tigers, are formally recognized by the Canadian government as a terrorist organization for their use of suicide bombers and child soldiers. The protesters hoped to pressure the Canadian government to lift funding bans on the Tamil Tigers and to help broker peace in Sri Lanka (optimistically through a two-state solution). [Sources
1
|
2
]
Unfortunately, I was too shocked to take a photo whilst I was among the mob. I detoured myself from Union Station via the SkyWalk and managed to snap a picture of some of the protesters from there. The SkyWalk pushed me a block or two south of my intended route, which was mildly annoying.
I managed to arrive at the party intact, thankfully. Yubin and her boyfriend did a marvellous job of cooking up yummy food for us, which included miso soup and pork wrapped in lettuce with a variety of sauces. When one partygoer commented that it couldn't be considered authentic Korean food while cooked on a
George Foreman Grill
, Yubin retorted, "Of course it is! Because it (the food) is made by Koreans!" Fair enough.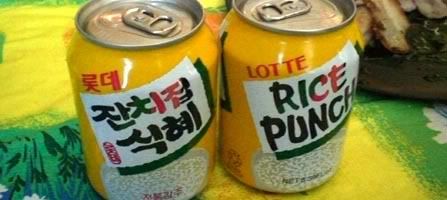 Yubin also brought along some of these interesting "Rice Punch" drinks. They're sweet beverages with grains of rice mixed in. I have to admit that while the liquid component was tasty, I wasn't quite partial to the rice. Still, the cans were really cute. We spent much of the evening jamming to
Rock Band
. Good times.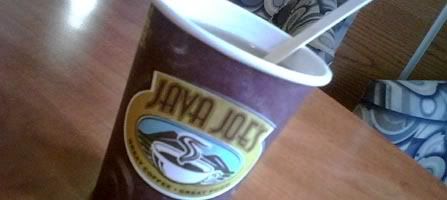 Tuesday morning, I awoke early for a meeting to lay some of the groundwork for my upcoming research project. I arrived a bit too soon, so I decided to stop for a tea at "Java Joes" in the same building. While I sat in a comfy couch, positioned awkwardly close to the doorway, I stared out the window at the street beyond.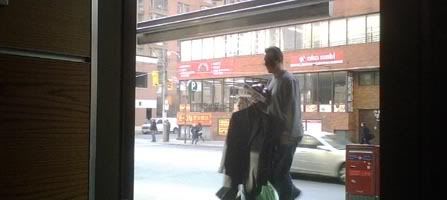 I paused to consider the architecture of the restaurants directly across the street. The buildings were simple and unattractive brick structures. Still, I greatly appreciated the staggered design, whereby the lower floor was half below ground and the upper floor was slightly elevated. I could almost imagine myself peacefully observing traffic and pedestrians from an inviting looking second floor restaurant's towering windows. At ground level, when you look out at the street, people often look right back at you. But from half a floor up, I imagine you would feel connected to street level but at the same time a passive observer of it. It was almost enough to make me want to buy a falafel or
shawarma
, which I am by no means a big fan of.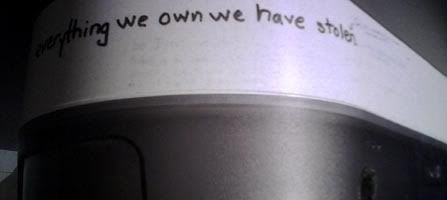 After my meeting, I stopped by the Medical Sciences Building to use the washroom. It always amazes me how whilst in the midst of defecating, so many would-be intellectuals experience the desire to bust out a Sharpie and write a little vandalized diatribe onto the stall partitions. In this particular instance, I noted a message scrawled onto the toilet paper dispenser reading: "Everything we own we have stolen." A much smaller response, inked in blue, read: "It's O.K., we stole it from people who stole it first."
I decided to look up
Kushima
for lunch, who put aside his busy March Break schedule to partake of this meal with me. After walking aimlessly around the downtown core for over half an hour, we settled on a little breakfast place called "Over Easy" on Bloor.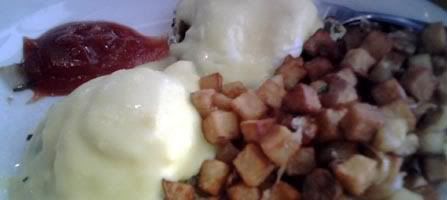 I opted for the Eggs Benedict dish identified as the "Florentine," which included soft spinach. I decided to go with this particular dish because of Yuffie's incessant gushing about Eggs Benedict. I remember once asking, "Isn't that just a poached egg on an English muffin?" She replied, "Yeah, but it's the
sauce
! It has
Hollandaise sauce
. It's
soooooo
yummy!"
The Eggs Benedict were indeed tasty. I was, however, discontented by the small size of the potato bits. Their minuscule proportions not only meant that they were cooked crisper than I would prefer, but also that they were particularly challenging to attack with a fork.
After lunch, Kushima and I decided that it might be exciting to arrange a little uptown excursion. So we headed back to my house for some golf and tennis practice...
Wii Golf and Wii Tennis
, that is.
J-Rock
joined up with us in the midst of our intense sportiness.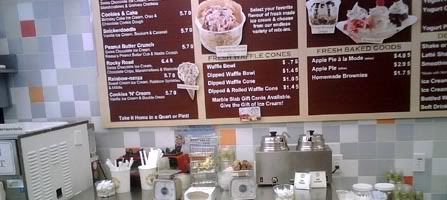 We figured that, given such a warm and sunny day, we ought to get out for a little bit. I suggested a small ice cream parlour that had newly opened near my house. It did not disappoint. Not only did the parlour include a variety of interesting flavours, but they approached service with an interesting style. The amount of ice cream dished out was carefully measured on small weight scales. The ice cream also came with so-called "mixins," additives such as fruit, nuts, cookies, sprinkles, or candies for extra flavour.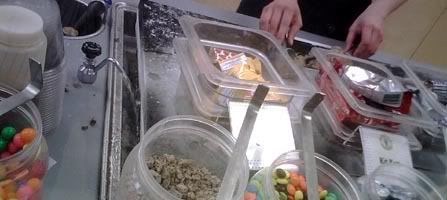 The "mixins" were carefully broken up and mixed into the ice cream atop a water-cooled surface (so that the ice cream didn't melt). Then the mixed ice cream was lovingly reconstituted into a ball shape and served in a cone or waffle bowl. It was superb.
While we were in line for ice cream,
Kon
rang me up on the phone, having finished the hospital observership which had occupied him for much of the day. After unsuccessfully persuading him to join us uptown, I handed the phone off the J-Rock. J-Rock spent a few minutes goading Kon into coming up, but eventually gave up and conferred the phone upon Kushima.
J-Rock: Here, I'm handing you to your twin.*

Kushima: Hello?

[Kushima hands the phone back to me]

Kushima: The minute I said 'Hello', he said, 'Okay, okay, I'll come.'

J-Rock: What... the... frig...? I see how it is!



*people often confuse Kushima and Kon, as they look somewhat alike
After ice cream, we picked up Kon from the subway. For some reason, Kushima and J-Rock wanted to drop by a fancy car dealership to look around, so we stopped over at a Mercedes dealership to ogle the goods. Unsurprisingly, we didn't get much attention from sales representatives.
We returned to my house for some Rock Band, but then opted to hook up my old Nintendo64 for some retro gaming action. Our activities included Mario Tennis, Starfox64, MarioKart64, and Perfect Dark. We overstepped our capabilities in the latter game, setting the enemy artificial intelligence far too high, leading to a headache-inducing flurry of deaths.
The night concluded with a SingStar bonanza. Kon and J-Rock really cut loose with this one, and while J-Rock professed his need to leave for another engagement at 8 PM, he was delayed via "one more song, one more song" until 9:30. There's nothing quite as entertaining (nor disturbing) as watching your male friends belt out "
[Hit Me] Baby One More Time
" at the top of their lungs. Yeehah.