Wednesday, March 18, 2009
My journey to New York, NY began at Terminal 3 of Toronto's Pearson International Airport. There's something special about airports... The cool, clean colours. The neatly compartmentalized vendors. It's as though airports are a microcosm of reality - part of their own world.
Above: A little bit of America in Canada for the homesick traveller. What makes a bar American? I'm not sure, but if my trip taught me anything, I'd guess NCAA coverage.
On the way through to the gate, we stopped to present our boarding passes to one of the airport staff. She was in the midst of a conversation, which began: "If they tell you to arrive at the airport three hours early, then you arrive three hours early. If you choose not to, then oh well..."
As she was speaking, she took my mother's boarding pass in hand, looked in her direction, and finished, "...You're going to miss your plane. Thank you." The former part of the sentence was a conclusion of her conversation and the latter was addressed to my mother... but for a second there, I almost had a heart attack.
In fact, our plane was to depart at 6 PM and we had left home at 3 PM in order to clear security and whatnot. It's a shame that travelling by plane requires so much security and waiting, because when you strip that all away, it's a tremendously speedy way to travel. The ride from take-off to landing was a mere one hour and twelve minutes. After take-off, I fell asleep, and was awakened by the flight attendant serving beverages. I ordered a ginger ale, and before I could finish the whole thing, we were landing.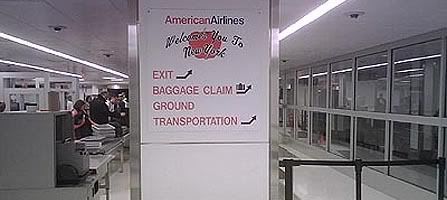 Welcome to the Big Apple. New York is a king among cities. Being a thoroughbred Torontonian, I love Canada to bits, so it pains me to say this - but Toronto doesn't hold a candle to New York... at least to downtown Manhattan. Manhattan, one of the five boroughs of New York City, is densely populated with people and skyscrapers. It feels wonderfully historical yet at the same time towering and impressive. It's no wonder Spider-Man lives in New York - there are ample vertical structures to swing from. But while Toronto has it's fair share of landmarks (the CN Tower), coastline, islands, and tall urban structures; what really impressed me about New York was its vibrancy as a living, beating cultural heart. Toronto is a big city, drawing to it the biggest Canadian chapters of many corporations and retailers. But New York has more than just the biggest, it has the
flagships
. Corporations and retailers begin
here
. Money begins here. Fashion begins here. Trends begin here. It leaves Toronto with the feeling of an overshadowed younger brother, hanging onto hand-me-downs (admittedly, very nice hand-me-downs).
We do have the flagship
Hudson's Bay Company
store... but then, they aren't even Canadian-owned anymore...
However, the contrasts don't end with beauty and magnificence. Juxtaposed with the splendour of downtown Manhattan are the ever closely linked ghettos of Harlem. From what I've seen of Queens and Brooklyn (two other boroughs of New York City), they have many rundown areas as well. And we've all seen
Rumble in the Bronx
, right? New York is a city of contrasts, and while it experiences opulence like nothing in Canada, it also experiences poverty equally extreme. The rich and the poor areas as so closely intertwined (often separated by just a smattering of blocks) that they become much more obvious than in Toronto.
As it turned out, our flight got off the ground half an hour late, leaving little time for activities Wednesday evening. After arriving at my sister's apartment in New York to drop off our luggage, our quartet (me, my mother, my sister, and my sister's boyfriend) made good on our only plans for the night - dinner.
We started our holiday in New York off with style, dining at an up-up-upscale restaurant called
Le Cirque
. If there is a template for rich, this restaurant was it. From the lavish decor and lighting, to the smartly dressed patrons unwinding at the bar, to the waiters with obligatory European accents, everything smelled of high class and money. In fact, while I came outfitted with a dress shirt and pants, the waiter stopped us before seeing us to our table. "We're going to have to see about getting you some jackets," he admonished my sister's boyfriend and me. The coat check lady located a couple of reasonably fitting black sportcoats, which we promptly put on before taking our seats. I was absolutely bewildered that the restaurant at which I was eating had just
lent me a jacket
(requisite to my dining experience no less). Now that is classy.
Just so you don't think that we're a band of extravagant snobs, however, we opted for
Le Cirque
because of a
Winterlicious
-like event ongoing in New York. Thus, we were able to compose a three-course dinner for only $25 each. Apparently, the event had been extended several times because of the flagging economy. In the early days of the event, my sister said, reservations were near impossible to come by. However, because many people were unaware of the event's extension, we were able to score a table. It's worth noting that besides the special event menu, the cheapest meal was a $75 three-course dinner. Oy!
My sleeping arrangement left me on the futon in the living room of my sister's two-bedroom apartment (her roommate had recently moved out, having to follow her PhD supervisor who had transferred to another university) while my mother took the other bedroom. This made it virtually impossible to sleep when anyone was using the adjacent dining space or kitchen. As a result, I was kept up by my mother's incessant cleaning and tidying of my sister's apartment, which continued well into the night. Luckily, this gave me a chance to virtually finish the book I had bought at the airport: Douglas Coupland's
The Gum Thief
.
The book kept me up until 4 AM, at which time I decided I had better give up and go to sleep. Three more full days of New York intensity awaited me.
To be continued...