Thursday, March 19, 2009
...
[Continued from Parts 1 | 2]
It was raining and frigid outside. I had only a spring jacket and an umbrella with which to face the elements because I had expected the temperature to hover around 9-10 degrees Centigrade. After our Liberty Island excursion, I was ready to get inside.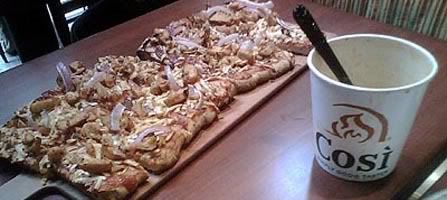 We stopped over for lunch at a franchise restaurant called Cosi near
Union Square
. It specialized in a particular kind of flat bread, which was used to make sandwiches and pizza. Between myself, my sister, and my mother, we ordered a pizza, a soup, and a plain flat bread. While the food certainly looked tasty, none of us ate a terribly large amount. The unfavourable spices, chilly temperatures, and rapidly cooling foodstuffs led to our party of three only being able to consume half of a pizza designed for two. Sad, I know.
After lunch, my sister and mother wanted to go shopping in search of clothing bargains. Big cities are renowned for their shopping glory, and New York is certainly no exception. We made a long stopover in a two-story clothing store known as Forever21 with an absolutely minuscule men's clothing section. Apparently, there is a Forever21 store in Toronto also, but it's tiny.
While my sister and mother browsed to their hearts content and tried on clothing, I wandered aimlessly around the men's clothing section. I must have seen every article of clothing on offer at least thrice. I ran into the above T-shirt that read:
Hip Hop is Culture. Rap is Style!
I thought to myself,
How can I possibly buy anything from a store like this
? I deeply disapprove of ghetto/gangster culture and its popularity.
It's true that the store's clothes were indeed very inexpensive, but they all either started in L/XL sizes or looked incredibly cheap. Now it's one thing for an item of clothing to be inexpensive, look good, and feel cheap (upon inspection). That's
Bluenotes
. I love it. It's quite another for clothing to be inexpensive, feel cheap, and
look cheap
. That's bad.
But given the enormous amount of time for which I was kicking my heels, I did manage to snag a few bargains including a $25 vest and $50 blazer, which fit surprisingly well and didn't look too shabby. It just goes to show that every cloud has its silver lining.
Next, we headed over to a multi-level shopping complex containing two stores: DSW and Filene's Basement. Filene's basement, for the record, was no basement at all but rather was located on the fifth and sixth floors. DSW can only be regarded as footwear Mecca. Never in my life have I seen such rows upon rows upon rows of shoes, boots, sandals, and flip-flops of every colour, brand, and style. I spent quite a bit of time bouncing from one chair to the next as my mom and sister perused all that the store had to offer. In the end, they each ended up buying one pair of shoes at what by Toronto standards would be considered deeply discounted prices.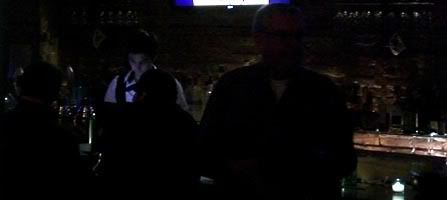 We stopped for dinner at a pub-slash-restaurant called Bon Chon Chicken in Koreatown. Apparently, Korean-style fried chicken has become all the rage in NYC. Bon Chon is tucked away inconspicuously along the street. It has an unmarked doorway like many smaller apartment buildings, which gives way to a sterile looking hallway leading to a narrow staircase. If you somehow manage to find the establishment, the staircase gives way to an explosion of music and style as easy Euro beats drift over a crowd of leisurely businesspeople in pinstripe suits enjoying alcohol and fried chicken by the bar.
It took us awhile to get a seat, but I was drinking in the atmosphere. In many ways, Bon Chon was a case of East-meets-West. The club-esque atmosphere, moody lighting, and heavy beats had a distinctly Western feel; but the heavily Asian clientèle, menu, and wait staff affirmed the establishment's origins in the Orient.
The most fascinating aspect, however, was that all of the waiters and waitresses looked like they were ripped straight out of a Korean drama. I wouldn't have been surprised to see any of them in the immensely popular series,
Boys Over Flowers
, recognized for its attractive male cast. Bon Chon must have pulled the top looking Koreans in New York - you know, the unusually tall ones with impossible hair. The image was completed with a shirt/vest uniform that was upscale but trendy looking.
Yubin
's paradise, no doubt.
When we finally managed to move from the bar to a table, our Korean waitress leaned over the bar to get another waiter's attention. "
Oppa!
" she shouted. So drama!
We each ordered a soda and shared a seaweed salad, order of California rolls, and Bon Chon's famous fried chicken. All of the food was excellent and copious, but relatively expensive. The sodas were $3 each, despite coming in minuscule glasses filled half with ice. I suppose that was our punishment for ordering non-alcoholic beverages at a bar.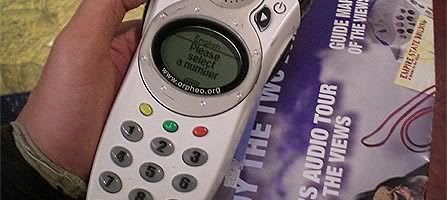 With full bellies, we were ready to continue our journey. We headed to the nearby Empire State Building and bought tickets to the top. I opted for the audio tour, which was excellent (though freezing). From the top of the Empire State, New York's tallest building since the fall of the World Trade Center, the whole of Manhattan is laid bare. The audio tour filled me in with tons of background information on the building and city and also pointed out to me the notable neighbourhoods and structures.
For instance, I learned that the Empire State Building was constructed in just 14 months. Today, such an endeavour would take at least three years. The construction was done supremely efficiently. For example, a cafeteria was set up every twentieth floor so that workers wouldn't have to go down to the base to eat lunch. And while in those days, it was expected to lose one worker per floor, only five casualties were incurred in 100+ floors of construction.
As I learned about the neighbourhood, my audio tour guide pointed out the almost equally noteworthy
Chrysler Building
. Apparently, during its construction it was rivalled by another New York tower for the title of world's tallest building. Both architects revised their plans on the fly so as to keep ahead of their rival in terms of height. The Chyrsler Building architect,
William Van Alen
, had the spire of the building secretly constructed within the tower's infrastructure; and when his rivals at
40 Wall Street
stopped building, he raised the spire upwards, claiming the title of tallest building. His victory was short lived, however, as less than a year later, the Chrysler Building was dwarfed by the completion of the Empire State Building.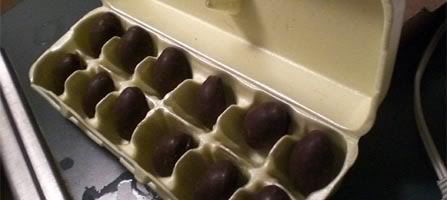 Having hit both my "must visit" landmarks, we stopped by a pharmacy so that I could buy a shaver. While there, we picked up an egg carton of chocolate-marshmallow eggs. They were really cute, though we felt a bit cheated when we opened them to find that they were only half-eggs (kind of shaped like
Turtles
). We rotated them to have the round side up in order to take a convincing photograph.
I finished off the last few pages of
the Gum Thief
and then tucked myself into bed. Two full days of New York madness remained.
To be continued...