Friday, March 20, 2009
...
[Continued from Parts 1 | 2 | 3]
My sister's boyfriend's parents had kindly agreed to drive us around New York for the day. Having cleared the Statue of Liberty and the Empire State Building the day before, we'd already touched base with the landmarks where parking would be difficult. Friday would be an opportunity to get up close and personal with the city proper.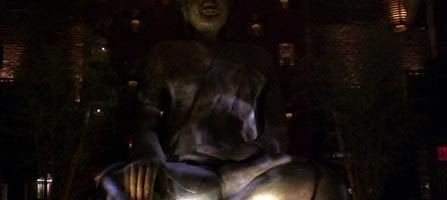 We began our day at a classy Asian fusion restaurant called Tao. It had a beautiful, dark ambiance resplendent with glassy windows, glimmering lights, and Asian decor with a modern arrangement. Along the wall of the restaurant, spanning both floors, was an large stone Buddha with irregularly long fingers. At the Buddha's feet was a fountain full of
carp
, similar to those seen in many Chinese restaurants.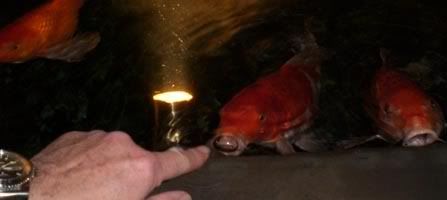 The major difference, however, was that the fountain was at waist level, and the water was filled to within a centimetre of the pool's edge. There was no buffer between the height of the water and the height of the pool's partition, meaning that when the carp stuck their heads above the water, they were also sticking their heads over the edge of the pool. My sister's boyfriend's father obliged us by sticking his finger at the carp, who obscenely nibbled at it with their toothless mouths.
The food at Tao was quite tasty. We ordered from the Lunch Special Menu, which included an appetizer, main course, and dessert. There was a lot of duplication in ordering and sharing of food going around our table. For the appetizer we tried the Bang Bang Chicken, Satay of Chicken with Peanut Sauce, and Peking Duck Spring Rolls with Hoisin Sauce.
For the main course, we all ordered either the Shanghai Scallion Beef (a stir fry dish) or the Wok Seared New York Sirloin. They were both well done, although we couldn't quite finish them off. I had a "Zen Parfait" for dessert, but by that time I was absolutely stuffed. As a result, I didn't really get to try other people's desserts, which included Banana Bread Pudding and Fresh Fruit/Tangerine Sorbet.
Before leaving, I had a chance to visit the washroom, which was quite unique. The first test was determining which was the men's room. One door was labelled Yin and the other Yang. There were no other helpful aids. Luckily, I had been tipped off in advance that Yang was for boys.
Sister's Boyfriend's Father

: I mean, it made sense to me.

Yin

...

-in

... ladies room.



Sister's boyfriend

: I don't really get your logic here, but I don't think that I like it...
Inside, the bathroom stall was a lit up slot machine hanging from the wall. I spent a bit of time trying to figure out if it was functional, pushing buttons and turning knobs... but I couldn't get it to work. My impression is that it was purely decorative. I didn't want to play with it too much, since there was an attendant waiting outside, and he was probably wondering what I was doing inside the stall for so long.
When I exited, the attendant was there ready to squeeze liquid soap onto my hands. Then he turned on the tap for me and turned his attention back to the stall which I had just exited. He kicked up the toilet seat and sprayed a bit of... air freshener? Cleaning solution?
The sink was pretty special also. It didn't make a complete bowl, but was shaped kind of like a trough with one side missing. As a result, it functioned somewhat like a gutter, spilling water off the right side down to the floor, on which there was a little drain bordered by neatly arranged and rounded stones. At first, I thought I was spilling water all over the floor, and it took me a few seconds to realize that the sink was
supposed
to do that.
When I returned to our table, I found and promptly devoured a chocolate fortune cookie waiting for me. "You are difficult for others to resist," it said. Well, I'm hardly going to argue with that!
To be continued...