Friday, March 20, 2009
...
[Continued from Parts 1 | 2 | 3 | 4]
After lunch, we made a run through what may be the world's greatest toy store: FAO Schwarz. My sister's boyfriend did mention, however, that New York's
Toys'R'Us
may be even better, since FAO Schwarz flirted with bankruptcy a few years back whereas Toys'R'Us stayed afloat. Apparently the Toys'R'Us in NYC is colossal and includes its own Ferris Wheel. Sadly, I didn't have the opportunity to go.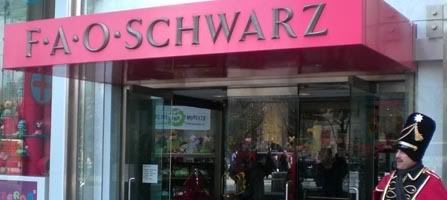 FAO Schwarz is a toy store the likes of which I've never seen. "If you see it, you can buy it," I was told. What I saw were two enormous floors of the most unique specialty toys I've ever seen. These included stuffed dragons, elephants, and giraffes of near life-size proportions. Outside the store was a cheerful looking man dressed up like a toy soldier, beckoning passersby to take photos with him. Inside the store were demonstrators, previewing and pushing many of FAO Schwarz unique inventory. I'd never seen toy demos in a toy store before - I always assumed that was something reserved for foodstuffs at Costco. I was impressed.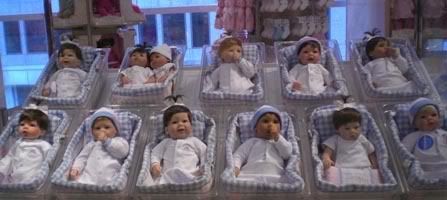 I mentioned that FAO Schwarz carried all manner of specialty toys. These included Barbie-like dolls by American fashion designer
Jason Wu
; a variety of original FAO Schwarz self-branded toys; and life-size Lego recreations of the cast of Harry Potter, Star Wars, and Batman, retailing for around ~$27,000 USD per character. The baby dolls pictured above were protected by a glass case, and looking at them was almost like looking into the nursery at a hospital. They were rather creepy though. Standing nearby was an FAO Schwarz employee dressed as a nurse with a rocking chair, holding one of the babies for customers to experience. While I refused to touch the doll, my mother took the opportunity to pick it up. To her astonishment, it weighed and felt like a real baby, right down to the softness of its tiny faux-baby body.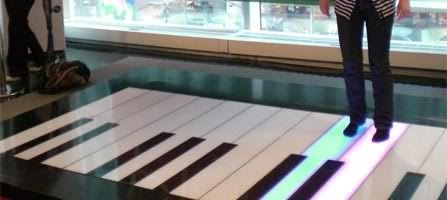 One of the major attractions at FAO Schwarz was the "Big Piano." It's a giant piano that you can stand on and play with your feet. The keys light up as you step on them and emit the appropriate sound. Unfortunately, I didn't have the chance to try it for myself. We were in a bit of a hurry, and there was a rather long lineup. What would I have played anyways? I barely remember any piano pieces via the muscle memory of my hands, so there's no way I'd be able to translate anything more complicated than a scale through my legs. It did look like fun though.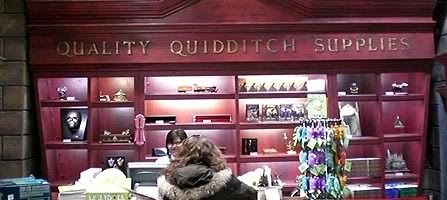 FAO Schwarz included an entire section devoted the Harry Potter merchandise. It was a rather authentic looking display, and one might imagine that if little Harry were to indeed buy supplies in wizardly, he might do so over quite a similar looking counter. While I'm not a huge Harry Potter fan - I've watched the movies, but haven't read the books (except for the second one, which I'm told is the worst) - I couldn't help but get excited when I saw the Harry Potter neckties.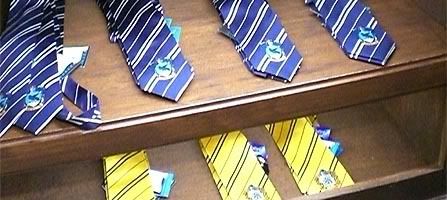 I admit it, I like that pretentious English prep school look. To be honest, the ties were in fact quite nice, and bore the classy looking Harry Potter house crests. They also sold Harry Potter scarves, and I seriously considered returning to the store and buying a necktie and scarf or two for the remainder of the weekend. I, however, did not.
The only objection I had with FAO Schwarz was its disappointing dearth of action figures.
You may recall
that action figures were a veritable staple of my childhood. So to find only a single aisle in such a robust store devoted to the genre was sorrowfully underwhelming. What's more was that even the said aisle only carried three or four different varieties. Clearly, FAO Schwarz was geared more towards doll carrying, stuffed animal hugging, toddler types.
Maybe I really
would
have been better off checking out Toys'R'Us.
To be continued...