Friday, March 20, 2009
...
[Continued from Parts 1 | 2 | 3 | 4 | 5]
Our guided tour of New York began on wheels with a drive through Central Park. The famous park takes up 843 acres in the middle of Manhattan Island. Its estimated real estate values is $528,783,552,000. I have to give the city credit for forking over such a huge stretch of land in the midst of their urban jungle for parkland.
Central Park has an abundance of facilities. It has paths for walking, cycling, and roller-blading; rinks for skating; and lakes for boating and rowing. There are a number of roads that penetrate the periphery of the park (hence we were able to get a taste of it from the car), but in some cases they are sunken lower into the ground so as to minimize the distraction to park patrons.
We've all seen Central Park at some point, regardless of whether we've actually been there. Numerous films and television shows have visited the eminent location. But perhaps my greatest prior impression of the park was from the recent video game,
Alone in the Dark
(remake of a
childhood classic
). In the game, Central Park was recreated in its entirety as the playground for a survival-horror game. You're pitted against zombies, subterranean menaces, and plenty of other nasty creatures in the park's setting.
Thus, it was with some excitement that I first laid eyes upon Central Park to discover... "Hey, it really looks like it does in the video game." When I told my sister this, she assured me that she'd never be able to play such a video game. She visits the park all the time and is certain such an experience would leave a negative psychological impact. For what it's worth, I'd never play the game either... and that's
not just because
it received an abysmal average score of
58/100
.
New York is a huge and vibrant city, and the touristy areas are havens for street performers and vendors. A common sight are these guys dressed up as the Statue of Liberty, beckoning you to come over and take pictures with them. At first, I assumed that there was only one of these performers and that he moved around from time to time. After all, street performers can be pretty possessive of their ideas - I remember the copyright controversy surrounding one
Naked Cowboy
. But as it turned out, I found Mr. Statue of Liberty just a few blocks down from another one. Who would have guessed?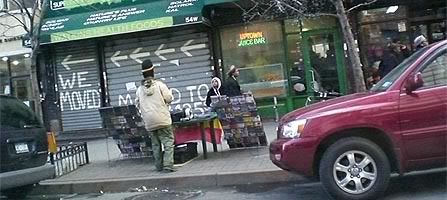 We continued our vehicular tour of New York, driving past upscale shopping districts like Park Avenue and notable landmarks like Grand Central Station. Much to my mother's discomfort, we also decided to take a spin through the notorious Manhattan neighbourhood of Harlem. As you head northwards from the affluent downtown core, a palpable drop in income level and real estate value is apparent. In fact, the more impoverished and ludicrously wealthy areas of the city are separated by little more than a few blocks.
My sister's boyfriend's parents assured us that Harlem was perfectly safe during the daytime, though the same couldn't be said for the evening. Indeed, a beefy police presence was notable as we drove through the area. Another aspect of the neighbourhood that was jarring was the sheer shift in demographics toward the African-American population. New York may be one of the most diverse cities in America, but it doesn't seem to be the most integrated.
Along the same vein, other than our brief visit to Bon Chon Chicken in Koreatown the night before, I had seen a surprising dearth of Asian people on the streets of New York. And true to the stereotypes, all but one of our cab drivers in New York were
accented, brown immigrants
. Interesting.
To be continued...


This entry was
adopted
by Brutus.