Saturday, March 21, 2009
...
[Continued from Parts 1 | 2 | 3 | 4 | 5 | 6 | 7]
With all family members accounted for and rested, Saturday was the real day of family gathering. This included three cousins, my uncle, my mom, my sister, and three significant others (two cousins' and one sister's). We began the day with dim sum at an excellent Chinese restaurant.
Being from Toronto, the heart of one of the most vibrant Chinese communities in North America, I've had some superb Chinese food. What I've learned from my experiences at Chinese restaurants from Toronto to Montreal is that ordering Shanghainese food at a Cantonese restaurant is tantamount to disaster. Go to
Asian Legend
if you want
siu long bao
. At Cantonese dim sum, stick to your
haa gaau
. Unfortunately, my cousins did not heed my warning and were determined to order something with which to compare with the bao at
Joe's Shanghai
, where they were planning to lunch the next day. The siu long bao were, of course, thick, starchy, and repulsive as I predicted. Everything else was tasty.
After lunch, we swung by my cousin's apartment, which was on something like the seventh floor of a building with no elevator. It was, in classic big-city style, very narrow; but what it lacked in width, it made up for in length, so overall it was reasonably sized. Cleaning had been applied less than optimally, however, and despite prior efforts by my uncle and other cousin to tidy it up, my mother still spent half an hour chasing dust bunnies around the apartment with a
Swiffer
and some Lysol wipes. My cousins were universally impressed by the amount of dirt that was uncovered.
We then proceeded to swing by Central Park, this time on foot. Central Park vaguely reminded me of
Stanley Park
in Vancouver (which I've only been to once and only vaguely remember in the first place), except that instead of mountains in the background, you have skyscrapers. It's an impressive and elegant juxtaposition of urbanity and nature.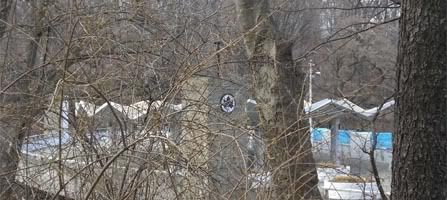 I couldn't help but notice on my two visits to Central Park (one by car, one on foot) that the New York Parks logo seemed to be an encircled Maple Leaf - much like the
Air Canada
logo or the Canadian Air Force
roundel
. I commented to one cousin:
Andy

: This just proves that Americans secretly want to be Canadians.



Cousin

: A lot of Americans wanted to be Canadians... for a very long time. Eight years long. Ever since we had a president named Bush. When Obama got elected I ran through the hospital and told my attending, "

Finally

, I can take that Canadian flag off my bag when I travel." He replied, "

Finally

, I can be proud to be American again."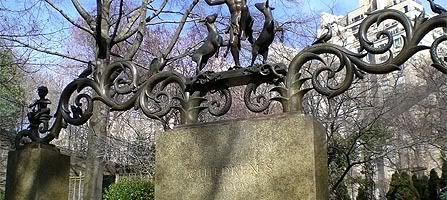 Central Park, as I've described, is a massive and well-equipped recreational nature space. It has paths for bikers and runners. Lakes for boaters. Rinks for skaters. It's a haven for street performers. But its own zoo? That's right, if you can't read the stone pillar in the photo above, it says:
Children's Zoo
. While it's no
Toronto Zoo
, it's not insignificant either. Not too shabby!
After our walk through Central Park, everybody returned to my sister's boyfriend's apartment to watch television. That may seem odd, but everybody in the US loves basketball. Apparently, virtually every workplace places bets as to which teams they expect to win in the tournament, and whoever gets the most teams correct, takes the pool. This was made all the more significant because
UNC
, the college at which my uncle works, was playing that night (and they are ranked among the top tier). Therefore, this was an unmissable game. For my part, I took the opportunity to catch some time on Windows Live Messenger.
Our final destination for the night was a lovely ten-course Chinese banquet celebrating my uncle's birthday. On the way there, we passed by a white and orange stack placed conspicuously in the middle of the street and streaming steam. I had no idea what it was, but felt compelled to take a photo.
The Chinese restaurant was first-rate, and all of the waiters were dressed in blue, colonial-style uniforms with
epaulets
. I approved. After all, Hong Kong was most significant just prior to the 1997 takeover. It had achieved success and wealth, yet with its unique British styling was widely regarded as the Western gateway to Asia. Let me ask you, how much less grand did it sound when the Royal Hong Kong Police became just the
Hong Kong Police
?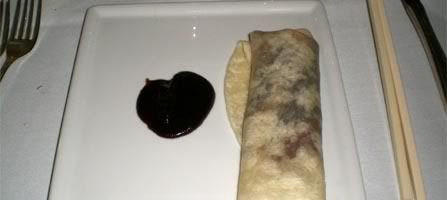 The food was well done, though likely quite expensive. The most unique dish, in my opinion, was the Peking duck (or
Beijing duck
, as they called it). Instead of having little pancakes and sliced duck to assemble ourselves, we received one
large
pancake, stuffed with goodies, and a side of
hoisin sauce
. It was unusual, but very tasty. You know a restaurant is classy when they wrap your Peking duck
for
you, right?
After dinner, our evening wound down and we dispersed, ending our enjoyable family get-together in New York. For awhile, a texting frenzy attempted to organize a meet-up between myself,
Ting
, and her friends, who were also in New York for March Break. As it turned out, she was situated just a few blocks from my sister's boyfriend's where we were hanging out, but proved ultimately too lazy to extract herself or her friends from their hotel room to do anything interesting. Epic fail.
On the way back to my sister's apartment to sleep through my last night in New York, I took note of this particularly remarkable advertisement for
Snickers
candy bars.
"Make an appointment for a Hungerectomy!"
I appreciated the misappropriation of medical suffixes, though I'm fairly sure there's no such thing as a Hungerectomy (unless, of course, we're referring to
bariatric surgery
). But indeed, if there were such a procedure, given America's privatized medical system, I imagine that you would indeed be able to obtain one by making an appointment yourself.
On a slightly related note, these kinds of slogans and advertisements really do work. One day, when I was famished prior to a two-hour clinical skills practice session, I picked an
Oh Henry!
out of an entire counter of candy bars. Why? Because I remembered,
"Oh hungry? Oh Henry!"
Oh impressionable minds.
To be continued...