Yesterday was absolutely gorgeous. Sunny, cloudless skies coupled with fresh, crisp air and temperatures in the range of positive ten degrees Centigrade. I decided to do something nice for my heart (that's the real,
beating
heart in my chest; not my warm, fuzzy soul-a-mabob) and go for a bicycle ride. So I dusted off the 'ol two wheeler, pumped up the tires, and went for a spin.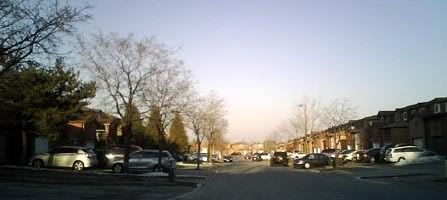 As I cycled aimlessly around the side streets in my neighbourhood - some of which I had never bothered to traverse before because they are so securely nestled in an array of poorly planned cul-de-sacs - I realized... I live in suburbia. North of Toronto lies the American dream (in Canada): a house for every family, a car in every driveway, and a chicken in every pot... right? But as I arrived at one street in particular, I was blown away.
Cars
. Cars... everywhere. If
Al Gore
could see this, he'd have a heart attack. Amazed, I rode up and down the street. Two to three cars to a driveway, sometimes spilling over onto the street with adjacent driveways only inches apart from one another (making it look like five cars to a driveway). Two Toyota
Matrix
(Matrices?) here. A
Calibur
and a
Caravan
there. I took an "L" shaped path, counting cars along two sides of a single block. Seventy-five cars.
Seventy-five
! That's not including the cars hiding in the garages... because everybody had one (a garage, that is).
Now I know that I'm hardly one to talk. My family owns its fair share of vehicles to cart around our (now dispersed) family of six... but
seventy-five
cars...! That's too much,
non
?
...

In light of the supremely energizing weather, I decided to change the background music on the main site to something more upbeat and summery. I also wrestled for several hours with the prospect of tweaking the colour scheme to something more upbeat. But to be honest, my command of CSS is limited; and after getting a minor headache, I gave up. If I was going to make such a drastic change, I wanted to facilitate similar changes being less painful in the future, and that was simply not going to be easy.
Perhaps it's time to trade in my Notepad for a web-coding platform that is a little bit more elegant...