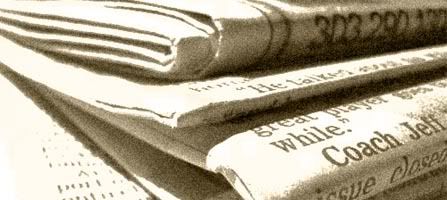 On my way into the subway station, a couple of black gentlemen were handing out some small-time, anti-corporate American newspaper. Having one shoved in my face, I politely accepted. As I grabbed the paper, I noticed that the donor was not letting go. I looked up to meet his gaze.
"Oh sir, we just ask that you make a small $2 donation..." Bumped out of my morning robotic rush, I fumbled for a loonie in my pocket - anything to get me back on track. As I inserted the coin into my solicitor's hand, I realized, I really didn't want the newspaper in the first place. How had this series of events unfolded?
"No, that's okay," I waved off the paper now
actually
being relinquished into my hand.
"No, no, it's for you to
read
!" insisted the solicitor. I took the paper and browsed the headlines. Obama condemns corporations this. AIG is evil that. Reading this drivel would be equivalent to poking at the
Epoch Times
, or worse, the
National Post
. I chucked it in the nearest recycle bin. After all, I only read news
by
real
journalists
.
Somehow, my reflexive act of not ignoring one person giving out "free" newspapers left me two minutes, one dollar, and several hundred
ATP
short. Next time, just say "No thanks."