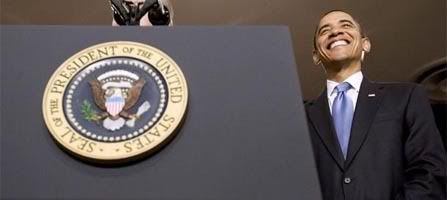 Barack Obama, forty-fourth president of the United States, has been in office for a paltry three months, but he sure has a lot on his plate. I'm distressed at the sheer number of obstacles that Obama need overcome. These include a tanking economy, uncooperative allies (who offer conciliatory lip-service but little solid compromise), and of course, being president number forty-four (which is commensurate to being president number "double
death
").
Yet Obama has admirably jumped right into the fray, immediately tabling oodles of legislation and signing many an executive order into action. Having had months after his election victory to watch the country stumble in not-yet-inaugurated powerlessness, Obama planned furiously. And as soon as he was sworn in, he rushed out the starting gate to tackle a bevy of problems, leaving some pundits crying "
too much too fast!
"
Obama has quickly proved himself to be a resourceful, congenial, and hands-on president. His success at pushing through a $787 billion economic stimulus package where his predecessor failed is impressive. His administration also moved quickly to
recoup
monetary and public opinion losses over bonus payments made to AIG executives, a company that had been on the receiving end of the financial bailout. These stories of extraordinary government interference, including the recent
ouster
of General Motors CEO Rick Wagoner, make clear that Obama is determined to
be
the guiding hand that leads his country out of crisis... and that he's not afraid to push.
Nevertheless, while Obama oozes of learned charisma and trustworthiness - characteristics that the financial sector is heavily lacking at this point - his hands-on approach does raise some questions. Most importantly, is the government truly more competent and more qualified to fix corporate America than those executives who live and breathe in it?
It's one thing to legislate and regulate, it's quite another to start ripping out CEO's and blocking bonus payments. Interfering with the day-to-day operations of companies is more than just governing, it's commandeering. The American public, for its part, seems willing to accept this so long as it is successful.
Is Obama the genie we all hope he is? Only time will tell...