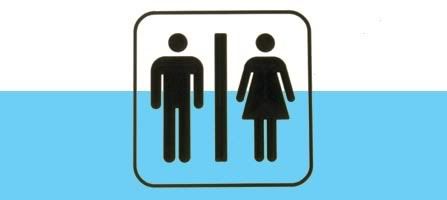 Mello
's boyfriend
Lucky
works part-time at our school. As we waited for him to come out of the staff room to eat lunch with us, our attention turned to the men's bathroom just adjacent...
Mello

: When you were in elementary school, didn't you ever sneak into the girls' bathroom like after school to see what it was like?



Andy

: Uh...

no

! Did you sneak into the boys' bathroom?!



Mello

: Yes! Didn't everybody?
...

Lucky arrives...
Mello

: Did you ever sneak into the girl's bathroom when you were little?



Lucky

: No, but that's because I'd already been inside.



Mello & Andy

: Oh...



Lucky

: Well one time we had this snack sale and there was a storage room

inside

the girls' bathroom so we had to go into there to get all the chips...!



...






Mello

: The first time I saw a urinal, it was in one of those single-person washrooms, and there was a toilet and there was a urinal. I had no idea what it was... I thought maybe it was another kind of sink.



Andy

: You didn't put your hands in there did you?



Mello

: No! But I really didn't know what it was. Someone told me that it was to wash your bum, but I was like,

there's no water

! Then I realized... it was a urinal.