Above:
Alec Guinness
says, "J-Rock ain't no Obi-Wan... or Gandalf either."
Sunday, May 4th, as
J-Rock
brought to my attention, was
Star Wars Day
- a play on that age old (i.e. circa 1977) invocation, "May the Force be with you." While my inner-geek bristled with glee, I was far too preoccupied with anxiety over my upcoming neurology exam.
The wise Jedi Master Yoda once admonished young Luke that, "When 900 years old you reach, look as good
you
will not." He may well have been right.
The stresses of first-year medical school have taken their toll. While it's not quite the all-consuming commitment it's stereotyped to be, my life
does
now consist of apprehensively stumbling from one exam to the next, with little in the way of recovery time. And this is nothing, my fully licenced M.D. sister reminds me. This is only a drop in the bucket compared to the horrors that are to come.
A second-year student once commented to me that third and fourth-year medical students tend to look immensely older than first and second-year students. That's because the trials and tribulations of clerkship take a tremendous toll on them. For my part,
Evey
's mother recently commented that I looked as though I had aged since she last saw me. While I attributed this to my new hairstyle, Evey's mom was convinced that my skin had lost some of the plump spring in its step. Is medical school already exacting a price on my youth?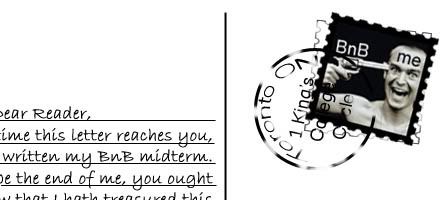 I had been studying for my neurology midterm intently since Tuesday. By Sunday night, the day before the exam, I was livid with fear. I paused to consider my situation. In undergrad, a term consists of approximately 12 weeks, with each course demanding 3 hours of lecture a week for a total of 36 hours. My neurology course crammed 33 lectures and 16 hours of lab into one month. My undergraduate courses tended to be sufficiently surmountable after a day or two of intent study. Yet after six days of concerted effort, my neurology course still seemed alarmingly out of reach.
Why? Had I become less effective at studying? More likely, the sheer amount of material covered per lecture had gone through the roof. All I knew was that I was feeling more stress about this exam than I could remember about any exam prior. In fact, for the latter hours of the evening, I could virtually feel the chest palpitations from my elevated "fight or flight" responses. I pondered the years of life I was losing due to this cardiovascular strain...
Even after all that work, I walked into the examination and was crushed by the laboratory component. I wish that I could at least say that it was all over now, but I have little to look forward to this month except running the gauntlet of another three sizable exams - one of which is the neurology final, based on another 30+ lectures that we will be blitzing through over the next three weeks.
Star Wars Day proved a cathartic outlet for my unease, as I put together the following modified quotations:
Leia: What are you doing? You're not actually going into a medical field?
Han: They'd be crazy to follow us, wouldn't they?

C-3PO: Sir, the possibility of successfully navigating

Brain and Behaviour

is approximately 3,720 to 1!
Han: Never tell me the odds.
Yes... strong am I with the Force. But not that strong.