Today, one of my friends from work was looking at the the 3D reconstruction of their head that the research assistant (who looks like
Kirsten Dunst
) had sent to them from their MRI scan. Since I know how to look at my own brain on the computer, I had never bothered to unzip the pictures that the research assistant had sent me. But since I didn't know how to do all these neat graphic reconstructions, I decided to finally look at my own batch of photos.
As I perused through facsimiles of my face and rainbow coloured 3D models of my brain, I noticed something unusual in the two or three unmodified slices that I'd been sent...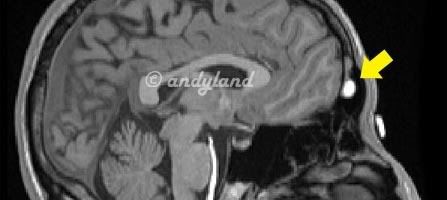 There was unusual hyperintense blob sitting in front of my brain in my frontal sinus! I quickly double-checked this on the axial and coronal slices. Slightly perturbed, I looked through a couple other brains and didn't see anything similar on any of them. The research assistant assured me that these scans are reviewed by a neurologist, and so I should be safe...
But I'll buy a free lunch for anyone who can identify the lesion!