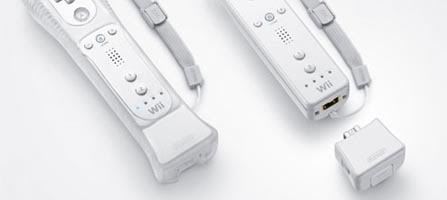 Wii Motion Plus is the latest bite-sized controller add-on for Nintendo's Wii video game console. Nintendo's promise for this device is that it will greatly improve the controller's accuracy. The catch phrase "one-to-one" has been tossed around a lot, meaning that Wii Motion Plus allows the controller to replicate your movements exactly - if you move your arm above your head, your character should move their arm above their head; if you bob your controller up and down, your character should bob their hands up and down. It's an exciting concept - imagine Wii Tennis where you can actually give a proper backswing rather than attacking from the wrist.
Some have criticized Wii Motion Plus as a con, making consumers pay $25 for what is essentially a "patch" to make the Wiimote do what it should have been able to do originally. Indeed, Wii controllers have continually milked consumers for more cash - $45 for the Wiimote plus $33 for nunchuk and now $25 for Wii Motion Plus? That brings a single Wii controller up to a wallet-draining $103 plus tax. So it had better work, right?
Electronic Arts (EA) promised it would. With Nintendo's lead Wii Motion Plus title (
Wii Sports Resort
) not due out until the end of July, it was up to EA's
Tiger Woods PGA Tour 10
and
Grand Slam Tennis
, as well as Sega's
Virtua Tennis 2009
, to demonstrate why Wii Motion Plus was worth all that cold hard cash. The above video demonstration certainly made it look like a sweet deal.
Riveted by the prospect of fully fleshed out versions of Wii Golf and Wii Tennis just as I had always imagined, I ran out and picked up two Wii Motion Plus attachments shortly after their June 8th release along with a copy of Tiger Woods PGA Tour 10. Less convincing reviews for Grand Slam Tennis and Virtua Tennis 2009 gave me pause, and I decided to rent both from Blockbuster Video at a cost of $10 each.
After reading the generally positive reviews from critics about the second-coming of Wii gaming via Wii Motion Plus, I expected to be blown away. Sadly, never has it been more apparent that critics are little more than paid mouthpieces for the industry than during my trial run of this deeply flawed technology.
I'll admit that for Tiger Woods PGA Tour 10, Wii Motion Plus worked more or less as advertised. While Tiger refused to follow my every motion, he seemed relatively happy to follow my up and down swings with precision... which in fact made the game a lot harder (and more realistic). That was good (I think).
I moved on to tennis, which
really
excited me. Which of these two games would be worth buying? The answer was neither. After spending a little time with both games, it was clear that the controls were bollocks and claims of "one-to-one" fidelity were shameless lies. If I pointed my Wiimote to the right, my character would point to the left. I tried moving my racket every which way, but my character refused to mimic my actions. Indeed, the only motion that was truly registered was the actual swing, which left me with the sour taste that I'd been had. After all, wasn't that just what the original Wiimote had done? The only difference between my character's movements with and without Wii Motion Plus was that with the new attachment, he seemed to flail his arms around a lot more, but this random flailing by no means mimicked my own movements.
I referred back to EA's demo video (posted above) in an attempt to understand how in the world my own experience could be so drastically different from the advertised one. Of course, if you look carefully, you'll realize that EA's spokesperson is actually matching the character's movement more than the character is matching his. I'd been had indeed!
In IGN's
deceptively glowing review
of Grand Slam Tennis, Mark Bozon notes, "It took me about 10 – 15 minutes of time to really get a feel for what Wii MotionPlus was doing, and another half hour or so to really feel confident that I was playing exactly how it wanted me to, but considering the amount of time
real
tennis takes that's not exactly a huge investment." But wait, there's something wrong with that statement. The whole point of Wii Motion Plus is that you shouldn't have to get a feel for
what Wii Motion Plus is doing
, it should be doing what
you're
doing, you brain-dead lapdog.
The conclusion is that Wii Motion Plus is an unimpressive add-on, which will likely be requisite for all future Wii games (hence bleeding Nintendo's faithful users even more dry through unnecessary hardware). It's a gimmicky conspiracy conceived of by backroom Nintendo executives, dishonest EA programmers, and dodgy game reviewers which simply does not work as advertised. Period.