I cannot recall the last time I had food this bad. Seriously. (Maybe it was that poutine I had at Burger King a few years back that was drenched in gravy which tasted like liquid salt...)
After attending our weekly Monday afternoon seminar,
Mello
,
Ting
, and I headed over to
Tea Shop 168
at
Yonge and Dundas
. Now I love bubble tea, and I love cheap, instant bubble tea food - places like
Ten Ren
's and
Go For Tea
are my friends.
However
, I hate, rather I
loathe
, Tea Shop 168.
For the uninitiated, Tea Shop 168 is a chain. It sucks
everywhere
. In fact, one of my very first blog entries (which I
deleted
whilst I was still settling into this whole blogging thing) was about the abysmal service I experienced at Tea Shop 168 at
Commerce Gate
.
On this particular occasion, I ordered a milk black tea (with pearls), noodles with stewed beef, and a condensed milk
brick toast
. Things were already off to a bad start by this point, the waitress having given me a dirty look for trying to order while at the same time being on the phone with
J-Rock
. The tea was bland. The noodles were bland. The brick toast? Not toasted.
Instead of the warm, toasted delight to which I am accustomed, I was served a cold piece of
thick
bread
with condensed milk spread on top. What in the world is that? We could barely finish it.
Ting had to leave early. After walking to the front to pay, she came back and dropped off some money with us because the person at the front desk
didn't know how to operate the cash register
. Stupid Tea Shop 168...
...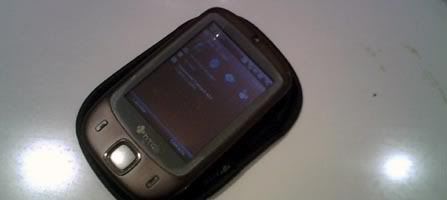 In other news, a third year medical student was selling his one-year old
HTC Touch
in preparation for a new iPhone. The going price was $50, and I considered laying down a bid, but decided that it would probably be quickly snapped up. As it turned out, the buyer was Mello!
After playing around with her phone for an hour or so (at Tea Shop 168), I came away with a bad case of the envies...
...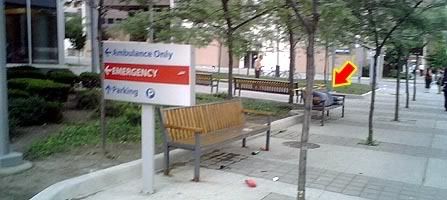 After tea, we dropped by J-Rock's place to hang out for awhile. On the way there, we passed by this patient sleeping on a bench outside the hospital in broad daylight. I thought they were a homeless person, but Mello told me that they were wearing an inpatient bracelet. Strange?