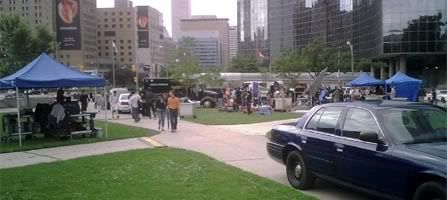 I stopped over at my school's Science library to pick up a
brainy
book for work. On the way, I happened by a flurry of activity. A small area around Queen's Park had been cordoned off. There were lots of police and even some EMS, but there were also tents and lots of cameras. What in the world was going on? It looked far too organized to be an emergency situation.
Turns out they were filming for
Flashpoint
, which is a Canadian police drama that I used to see advertisements for while watching
Heroes
. I was actually pretty interested in watching it based on the commercials, but never got around to sitting down at the right time.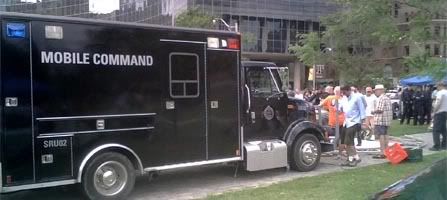 The police Mobile Command truck sure looked impressive. I wasn't sure if it was the real deal or just a prop. For that matter, I wasn't sure if the police were real police or just pretend (although they did seem to have some real police cars). Maybe I should have looked to see if the cars were specifically Toronto Metropolitan Police or some generic Canadian brand for TV?
Still, that was pretty neat.