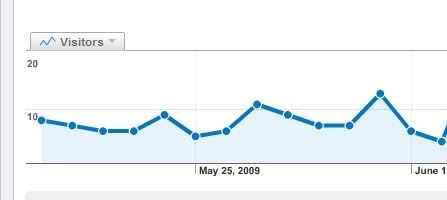 Being a
slave to my blog
, I used to check my
Google Analytics
statistics everyday. Eventually, however, I realized that it wasn't worth sweating over something I had such little control over. Nonetheless, it's entertaining to once in awhile to peruse through the keywords that sometimes lead strangers to bump into my blog completely by accident via search engines like
Google
.

For instance, one fellow was desperately seeking affirmation that Wii Motion Plus worked well for
Virtua Tennis 2009
on Nintendo's popular console. After bumping into my
scathing review
of this deeply flawed technology, the said visitor immediately bounced off my site, spending less than a second to scan the contents. They say ignorance is bliss.
When I saw this one, I almost choked. I guess Grad House's
gay porn
is no secret. Then again, none of those searches specifically mention
gay porn
at Grad House... so maybe these visitors were actually seeking for information on gay-friendly environments and homosexual sex at said residence. In that case, a free porn channel is just gravy.

After my opinion piece of
North Korea
, I had more than a dozen people hit my blog whilst searching for Kim Jong Il and North Korea. Most of them immediately bounced off. A sizable number of them wanted to know if Kim Jong Il has
syphilis
. While I wouldn't be surprised since I'm sure "supreme leaders"
do
often to have their own harems, is this really a key issue?
It's always interesting to see how two keywords from different blog entries can combine to draw people to my blog...
The lesson? I can see your private searches, and
we are not amused
... No, I lied. We are.