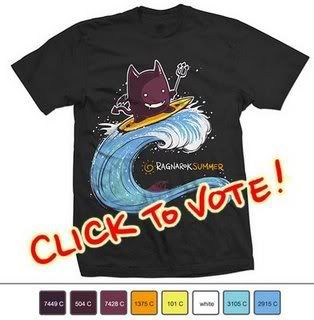 So my friend
Ruru
has submitted this awesome design for
Ragnarok Online
's summer t-shirt contest. It's cute, summery, awesome, and you should totally own one!
The contest hinges on this complicated concept called "crowd funding," which relies on a t-shirt's popularity to cover the costs of manufacture.
How does it work? You pay $10 for the t-shirt (plus approximately $4 in shipping). After 50 people "vote" on the t-shirt by ponying up their $10, it will go into print. If you want to buy the shirt after it goes into print, it costs $20... so buy being an early adopter, you get the t-shirt for half price! You can put your $10 toward many t-shirts, and whichever shirt hits print first will consume your money.
Help my friend win by purchasing one of these fine garments (and help me get mine too, since the shirt is not in print yet T_T)!