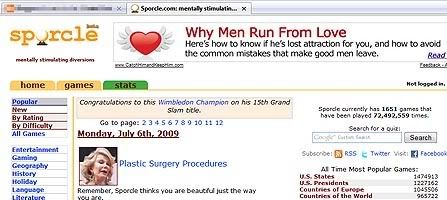 Over the weekend, I was introduced to probably the greatest productivity-killing website ever -
Sporcle.com
. It's essentially a game site rife with quizzes on topics ranging from the periodic table of elements to the last name of every Seinfeld character.
This morning, with little to do because my scheduled meeting was being continually postponed, two other summer students and I huddled around a computer and went through virtually every Sporcle quiz that was worth doing. It was very... productive.
I am fully cognizant of the hypocrisy of having sent out the following text message this morning:
Have a nice day at work. Don't sporcle too much! :)
For the record, I obliterated every quiz regarding human anatomy... which I'll use to justify my continued enrolment in medical school...
The periodic table decimated me though...