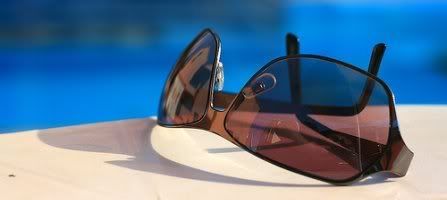 Yesterday, I was a subject in my friend's MEG (magnetoencephalogaphy) study. Because MEG is a functional study, I was actually required to perform certain tasks at the same time as being scanned, which required proper visual function. However, wearing glasses into a giant magnet is
for one reason or another
taboo. So I donned a fresh pair of soft contacts and shed my glasses, an event which happens every once in a blue moon.
All day, I had friends asking me "What happened to your glasses?" or "Are you wearing contacts?" (to which I usually shot back a snarky, "Nope, I'm pretty blind today.")
Still, it's understandable that people didn't know quite what to make of my glasses-free face, because I wear glasses all the time - and for good reason. Which brings us to the question-du-jour: Why
do
I wear glasses?
Because I'm blind as a wombat

- Okay, no. Wombats aren't blind (as far as I know), but I'm not quite as blind as an actual bat (that would be Mello). Clocking in at a whopping -6.5, I just happen to be pretty seriously impaired.



Because glasses make me look smarter

- It's true. Nothing says hard-working, studious young bloke like a pair of serious-looking eyeglasses.




Because glasses hide dark circles

- Like any student, I am frequently a victim of sleep debt. While glasses can't protect me from falling asleep in class (that requires a different kind of glasses), those dark frames do draw attention from those unsightly bags under my eyes.



Because glasses fill out my face

- It's not that my eyes are unusually small - they're actually quite passable. I'm Asian. But when I wear contacts for the entire day, my eyes get tired and squinty by the end... and trust me, that's not particularly photogenic.



Because I can see better

- I don't know if it's because I have an infinitesimally small astigmatism in one eye, but for some reason or another my optometrist was unable to fit my contacts as well as my glasses. This means that while I delight in seeing the world through my own eyes, I get kind of woozy if I try to read too much text with my contact lenses on.



Because glasses let your eyes breathe

- Can't you hear your poor eyes being smothered by your soft contacts? They're screaming, "Oxygen! Oxygen! Dammit, I'm getting worse by the minute! Somebody get this thing off me!" Sure, they stop screaming after awhile, but that's just because you've asphyxiated them to death.

The way I see it, there's only one good reason for me to wear contact lenses on a more regular basis (other than the fact that I don't have to wipe them down every time dirt flies at me - apparently dirt on your actual eye is not quite as debilitating):
Sunglasses

- Because no matter how great your glasses look, sunglasses are glasses' cooler older brother. Since putting glasses-on-glasses is more than likely to negate that cool factor, it's best to shed ye old spectacles if you are keen to don these sun-loving devices.
But still, glasses ftw.