It's difficult to believe that nearly one year and 270+ blog entries have gone by since I first began this chronicle. My very first content entry appeared following my
August trip to Ottawa
to visit my sister. Now we've come full circle to another August Ottawa excursion, albeit shorter.
After a Sunday night drive over from Montreal to Ottawa, I awoke late on Civic Holiday to the smell of pancakes prepared by my early-riser sister and brother-in-law. Our itinerary for the day consisted of a visit to the Diefenbunker: Canada's Cold War Museum, followed by dinner and the five hour drive back to Toronto.
The Diefenbunker was semi-Top Secret installation constructed during the Cold War to protect the government of Canada as well as civil and military communications personnel (including a number of CBC staffers) in the case of a nuclear attack. Currently decommissioned, it sits about forty minutes from Ottawa proper in Carp, Ontario. Its name derives from the Prime Minister at the time, John Diefenbaker, the same head of government who buckled under US pressure to cancel the
Avro Arrow
project, thereby responsible for the southward exodus of many talented Canadian engineers.
The building was designed to protect 500+ essential personnel for 30 days from the fallout of a 5 megaton nuclear warhead dropped as close as 2 km away. Communications hardware was scattered in townships away from the bunker and connected via underground cabling so as to make the shelter's actual location more discrete. Only persons vital to the operation of the country were to be afforded a place in the Diefenbunker during wartime, therefore spouses and children were not allowed - evidenced by the single bed in the Prime Minister's office. For this reason, John Diefenbaker himself never stepped foot inside the facility, though plans were drawn up to transfer him there during the
Cuban Missile Crisis
. The only Prime Minister to ever visit the Diefenbunker was Pierre Elliott Trudeau who paid a short stopover for reasons unknown.
It was a pretty neat facility, though it has a distinctly 60's feel both technologically and architecturally, reminiscent of many not-so-nice university buildings built during the aesthetic dark ages. The guided tour was very informative, and there were many additional exhibits detailing Canada's history throughout the Cold War (though these were a bit dry).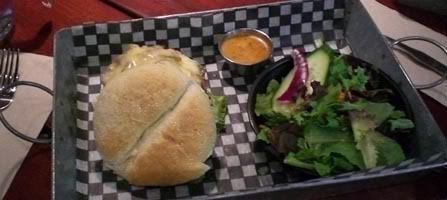 After we'd had our fill of the Diefenbunker, we drove over to a "gourmet" burger joint called
The Works
. Apparently, this is my sister-in-law's favourite place to eat in Ottawa. There are several of these establishments in the Ottawa area, though they have not yet expanded further. While the decor is meant to emulate a "men-at-work" industrial environment, it is visually and aurally more suggestive of a country cookhouse like
Montana's
.
Still, it was filled with fascinating knickknacks, such as the sign on the wall that read, "Notice: Unattended children will be
sold
" - no doubt a warning to would-be neglectful parents. There was a plethora of
burger topping options
, numbering in the dozens. Each style was available with a choice of side, bun, and patty (beef, chicken, turkey,veggie, mushroom... or for a little extra cash, organic beef, elk, or salmon). I opted for the "Man-O-War" which included caramelized onions, horseradish, Dijon haze, and Gouda cheese.
Seriously, this may have been the best damn burger I ever ate in my life. Score one for Ottawa.

This entry was
adopted
by Brutus.