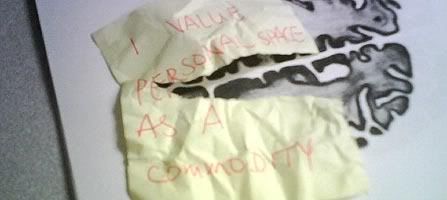 The last full-day of work has come and gone, and school is quickly approaching. Apparently, my veiled
shot
at
Sam
reading Facebook over my shoulder the other other day did not go unnoticed. As a playful parting gift, my back was slapped with the following yellow sticky: "I value personal space as a commodity." Fair enough.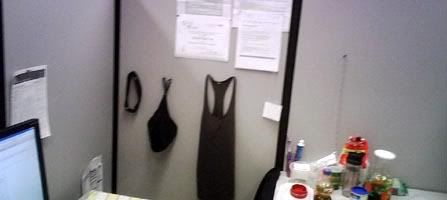 My supervisor kindly arranged a little lab pizza party to commemorate the last full working day for the
Boy Wonder
and me. Lablings from all over the floor flooded to our work area, drawn by the alluring aroma of cheese and tomato sauce. Given the unusual influx of not-too-familiar people, Sam expressed relief that she had not pinned her yoga clothes to the wall as per usual (Describing this event is a good demonstration of why I don't use real names on my blog).
So after a nightmare week with several work days that ran 9 AM to 8:30 PM, my full-time adventures at
HUMP
are over. Part-time only from here on in, juggling studying with researching. I'll miss you guys... but I'll relish the personal space. /jk