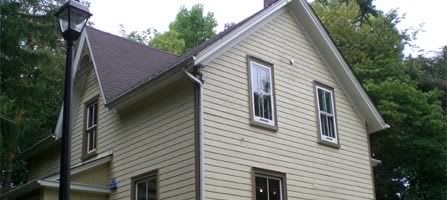 Last weekend was the second weekend of the 33rd Annual
Thornhill Village Festival
. The Thornhill Festival theoretically celebrates Thornhill's historic beginnings, but it in fact becomes more of a local showcase for artists and craftspeople to pawn off their goods to we the people. When I was younger, my siblings and I used to frequent the festival every year. As the years went by, however, my family realized that the festival was largely unremarkable and served as little more than a nuisance (since major roads near our home would be cordoned off).
This year, I took a special interest in the Thornhill Festival because I was apprised that the historic home of
J.E.H. MacDonald
, one of the
Group of Seven
's eminent members, would be open to the public as part of
Doors Open Vaughan
. Now, this "Doors Open" concept is something that is rather new to me. I first heard of it a few weeks ago when
Sandlot
informed me that UWO's library had been overrun by tourists as part of
Doors Open London
. Sensing my perplexity, she went on to explain "Doors Open" whereby interesting city sites are opened to the public. She added that
Doors Open Toronto
was in fact, quite interesting... and free (clearly, a key consideration).
J.E.H. MacDonald's house lies buried in a small park in my neighbourhood. I've always carried a vague sense of pride to reside near the homestead of such a historic figure. The house itself remains closed and locked at almost all times, however. I was curious to take a peek inside.
The house is actually quite small, with low ceilings and petite rooms. My sister said that houses back in those days generally were smaller and so were the people. I'm sure, however, that J.E.H. MacDonald could have done much better. After all, when my family moved into our current house, the immediate neighbourhood consisted mostly of farmland. Back when MacDonald moved in, his house must have been literally in the middle of nowhere.
I suppose, that's just where an artist who spent his life portraying Canada as is would want to be. I asked my sister just what made the Group of Seven so special - aside from
Lawren Harris
, I have difficulty distinguishing one from another. My sister explained that the Group of Seven were important not just for their artistic ability but also for their portrayal of Canada. Prior to them, many artists had tried to paint Canada, but they had come from Europe - they had painted Canada in the European style and made Canada look like Europe. The Group of Seven pained Canada as they saw it to actually be, in their own unique way driven by the Canadian experience. And the Europeans? They didn't get it.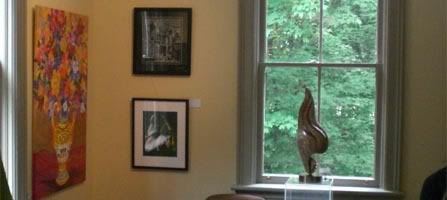 The J.E.H. MacDonald house itself, though, was highly disappointing. I was expecting an authentic historic experience with period furniture, much like the
Mackenzie King estate
in Ottawa. Instead, I was treated to a highly renovated interior with newfangled lighting and a fully modernized kitchen. The inside had been gutted and turned into more of an art exhibit for local artists to sell their works (which were not inexpensive). My sister said those responsible for the MacDonald house probably felt that MacDonald would be happy that his house was still being used in the spirit of art. I suppose that's true, but it would have been a lot cooler if they at least had a real MacDonald art piece to look at somewhere. I guess Vaughan is just too poor.
There's always the
McMichael
gallery...