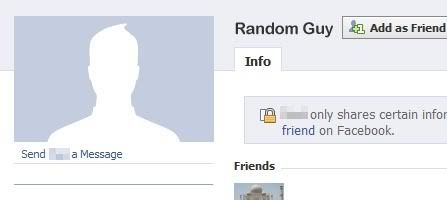 Some people like to abuse the expression "100% sure." You see, being sure of something means that you are confident that it is true. 100% is perfection. If you're 100% sure, your confidence is perfect. There is no doubt. Black is black. White is white. This-thing-is-true-or-I'll-eat-my-shorts
confident
.
My Mom is part of the 100%-abusers Club. She often tells me that she's "100% sure" about things... until they're proven false. Sometimes they're true, but that's not the point. Personally, I tend to abstain from using superlatives like "100%" in arguments, and if I do... ooh boy, you're going
down
.
Today, I received a Facebook message from a Random Guy (name withheld). I was a bit confused because he had the same name as someone on my actual friend's list, but the hidden display picture tipped me off that things were not as they appeared. The message read as follows:
Are you also known as Vanky who went to OCI in Toronto?? I'm 100% sure you are. I can be reached at randomguy@emaildomain.com.
First of all, my name is not Vanky. Second of all, we have no friends in common (in fact, Random Guy only has 1 friend in total). I pondered this conundrum for a minute, then sent back the following reply:
I'm afraid you've overestimated your 100%. I think one should be cautious throwing around such certainties when you're looking for someone named "Vanky" and stumble upon someone named "Andy."
Could the real Vanky please stand up?