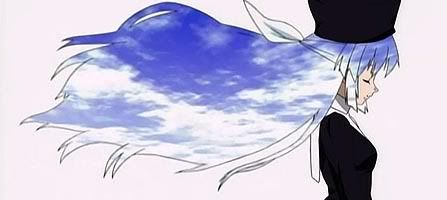 Several damning computer crashes lie between me and my youthful years as a high school student. Countless Word documents, and yes, WordPerfect documents, have been lost to the annals of time - including my most infamous writing composition ever.
It was December of 2002. I was studying Grade 12 English, licking at the heels of Grade 11 English via summer school. As one of our major assignments on poetry analysis, we were asked to compose a poem modelled after another. The model poem was entitled,
A Hemisphere in Your Hair
.
A Hemisphere in Your Hair

Charles Baudelaire,

Paris Spleen


Long, long let me breathe the fragrance of your hair. Let me plunge my face into it like a thirsty man into the water of a spring, and let me wave it like a scented handkerchief to stir memories in the air.

If you only knew all that I see! all that I feel! all that I hear in your hair! My soul voyages on its perfume as other men's souls on music.

Your hair holds a whole dream of masts and sails; it holds seas whose monsoons waft me toward lovely climes where space is bluer and more profound, where fruits and leaves and human skin perfume the air.

In the ocean of your hair I see a harbour teeming with melancholic songs, with lusty men of every nation, and ships of every shape, whose elegant and intricate structures stand out against the enormous sky, home of eternal heat.

In the caresses of your hair I know again the languors of long hours lying on a couch in a fair ship's cabin, cradled by the harbor's imperceptible swell, between pots of flowers and cooling water jars.

On the burning hearth of your hair I breathe in the fragrance of tobacco tinged with opium and sugar; in the night of your hair I see the sheen of the tropic's blue infinity; on the shores of your hair I get drunk with the smell of musk and tar and the oil of cocoanuts.

Long, long, let me bite your black and heavy tresses. When I gnaw your elastic and rebellious hair I seem to be eating memories.
And so it began.
Frankly, I had no idea how to model a poem like this. It was not like
rewriting a song
, where merely the rhyme and syllable structure needed to match. This had the feel of a complex piece of literature.
So I thought. I thought a lot. I took notes on the themes and the structure - how the poem began wide in scope and then closed in on a single cozy cabin. Then I began.
I began with a word. A single but generous word, with plenty of attributes to play with.
Galaxy
. Galaxy was my solution to Baudelaire's hemisphere. I needed something that had an equally expansive set of substructures as
half the planet
(a hemisphere) from which I could draw, and a galaxy certain met that criterion. Furthermore, galaxies involve space, which tickled the fancy of the science fiction geek in me.
Then my second conundrum began.
A Hemisphere in Your Hair
was an illustration in alliteration. To accurately model it, I too should alliterate. So I furrowed my brow and began brainstorming bodily parts that began with "G."
Gee gee gee gee, baby baby
. Gonads? No, too explicit. Gubernaculum? I hadn't even learned that word yet. Groin? Mayhaps...
At the time, I was participating in a two-day business competition with
DECA
, my all-time favourite high school club. I still remember sitting there at the Sheraton Centre in downtown Toronto, wrestling with the idea that I had just concocted. In the end, I took the plunge, and
A Galaxy in Your Groin
came to life.
Days later, back in class, I approached my teacher for advice. I should preface this with a bit of context. My English teacher was a terrific educator, and I learned so much about English from him. He was also the first openly gay man I had ever met, and it was apparent. From his feminine tone, to the hissy fits he would throw at students he disliked, he set off the gaydar in spades.
Now, I was still not particularly comfortable with my poem. Sure, I felt like I had done a good job modelling the original, and yes, I had an amusing time doing so. But still, I felt like the racy content of
A Galaxy in Your Groin
would bite me in the ass come marking time.
I paused before my teacher's desk. "Mr. Z, I wanted to ask you a question about our poetry assignment. What if our poem isn't exactly... appropriate?"
Mr. Z's head jerked up. His eyes narrowed, and his eyebrows twitched with suspicion. "What do you
mean
appropriate
?"
"Well, here let me show you," I stammered, shoving a lined piece of paper onto Mr. Z's desk.
Mr. Z read through the poem with great attention, and as he did so, the scowl faded from his face. The taut stress lines eased, and he looked back up at me with a smile. "Andy, your poem is very sensual," he replied, "You shouldn't be ashamed of that." Then he added, "Your poem makes me
blush
."
I almost choked and died.
I got a perfect score on that assignment.