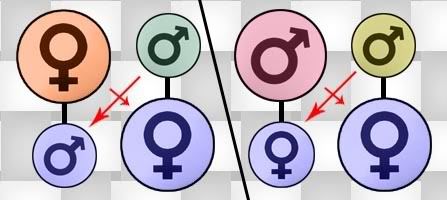 So it's come to my attention that almost all of the men
Mello
is attracted to look to be bordering on thirty (even though most of them are only in their mid-late twenties). The following discussion of age in relationships ensued:
Mello: Don't you think it's weird for a guy to date an older woman?

Andy: Well, my brother's wife is my sister's age; and my sister's husband is my brother's age.

Mello: Oh, is your brother older than your sister?

Andy: No.

Mello: Oh, so it's like...

your brother is married to your sister

!
Okay, no.
Mello went on to explain her train of thought. It went something like this: "If my sister was five years younger than me and was dating someone my age, and if I was dating someone five years younger than me (my sister's age), then it would make more sense for us to swap! So that's what I was thinking of for your siblings, except then I realized it doesn't work because they're opposite gender, so it would be like your brother was married to your sister!"
First of all, how does it make sense to
swap
? And secondly, if you actually performed the analogous swap with
my
siblings, they'd end up being
queer
, not incestuous.