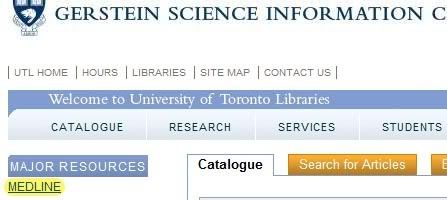 Today, I had a library session as part of my Community Health course. This is probably the umpteenth time I've been taught to use Medline via Ovid over the course of my educational career. Still, I suppose it never hurts to have a little refresher on scholarly research and to be reminded of what kind of support library services offer.
Toward the end of the session, a girl in my class stuck up her hand and asked, "So where do you actually go to access Medline?"
Holy Mother of Pearl!
I thought.
Could this girl have not used Medline before... ever?
I brought this up later when
Kushima
and I were attending a lunchtime session on critical review as part of our participation in the University of Toronto Medical Journal.
Andy: Did you hear that girl during our session who asked where you go to access Medline? That boggled my mind.

Kushima: Oh, yeah I don't know if I could answer that either... Ovid something?

Andy: Wait, you haven't used Medline before?

Kushima: No, what would I use it for? So complicated.

Andy: Didn't you do research this summer?

Kushima: Yeah, but if you need a specific article and you know the title, you can just type it into PubMed. And otherwise, you can just type something into Google and it will usually give you something relevant.

Andy: Really? So you just use Google Scholar?

Kushima: Oh, I don't even use

Scholar

...

Andy: Wait, you just use Google?! Oh dear...
Scholarly research at its finest.