Well, it's finally Halloween, but things feel a little bit more Trick than they are Treat. Out there on this Halloween evening, a very
frustrated lady
is trying to navigate a
group project
with a linguistically, technologically, and otherwise generally impaired elderly grad student. Meanwhile, studying for my PBD exam on Monday has me tired, frustrated, and zombified (instead of out there with the slutty witches, police officers, and nurses)... or is PBD the zombie that's devouring
me
? Dun dun dun...
I'd rather have people
jumping around corners
at me in bad costumes...
Halloween's not all bad this year, though. It's inspired a lot of artistically rich content all over the blog-o-sphere and beyond: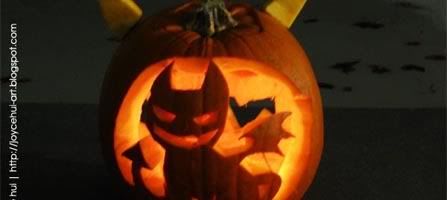 Check out
art.poopage
for
Ruru
's incredible Jack-O-Lantern, created during a pumpkin carving contest at
Kushima
's favourite place -
Grad House
. To check out the whole design process...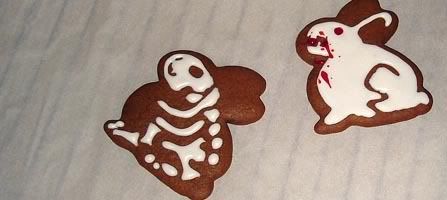 Or visit
nulla dies sin linea
for a glimpse of bara-chan's meticulously iced Halloween cookies. One of the most talented creators of
Ragnarok Online
fan art
, she's clearly as comfortable with the icing sugar as she is with a drawing tablet. To see the full cookie set...
Then, of course, there is this amazing find shared with my by
Kate
. Check out "Towering Transformers" to see the product of a family who spent 6 months creating life-sized replicas of Bumble Bee and Optimus Prime from the Michael Bay movie.
Here's wishing everyone a safe and Happy Halloween. Don't let school bite you in the ass!