Monday, October 5th, 2009. 0700h.
I woke up nice and early for my 9 AM exam. I wanted time to shower, eat, clean up, dress up, etc. It used to be that for morning exams, I would roll out of the door with unkempt hair and a hoodie - I felt like if I was too tidy for an AM exam, it meant I hadn't studied hard enough. However, first year quickly taught me that after an exam, the kiddies go out to play. After our second anatomy exam, we went karaoke. I live far and could not go home in between. There were pictures. It was not good.
I got out the door at 7:50 AM. 8 AM is a tough time for traffic, since it's when all the nine-to-fivers start their morning commute as well. As a result, the ten minute drive to Finch subway station usually becomes more of a twenty minute drive. The extra ten minutes between 7:50 and 8:00 AM make a world of difference. Arrival time at the subway station was projected at 8:15 - 8:20 AM. Traffic was
unusually bad
. We detoured and I still made it on time.
From Finch, I can usually make it downtown in approximately half an hour, arriving at class five to ten minutes before nine... but today was exam day. Let me tell you something very special.
I hate the subway
. The subway
hates me
. We
loathe
one another.
Subways break on exam day. It's fate. Since I took up the commuter lifestyle last year, I have had more than a couple close calls. They usually work like this: leave on time/early, subway delay, heart attack, arrive 30 seconds before start time. Yesterday broke this sequence, but not in a good way.
While there was no announcement of delay, the subway paused for an inordinate amount of time at each station. On top of that, when it did move, it crawled along at a snail-like pace. It's an incredibly frustrating situation - knowing that you'll likely be late but having so little control. If it was work, you could explain. If it was class, you could skip. But on exam days, you're just plain screwed.
Usually, I take the loop around to Queen's Park station to maximize my sleep time. On days where I'm in a hurry, I get off at College and walk across to Queen's Park on foot. However, on this particular day, we arrived at Wellesley station, one stop north of College, at 8:55 AM. I knew I was dead. If I took the loop around, I'd probably end up at my exam at like 9:30. If I waited until I got to College, I'd probably just be pulling up to the station at 9 AM (the start time for my exam). I opted to get off at Wellesley and book it on foot.
I ran. I jogged. I walked. I limped. I need to work on my running endurance. I staggered into the examination hall doors at 9:10 AM - ten minutes late. Thankfully, the doors were not locked, I did not kicked out, and nobody said a word... although, the invigilators did give me a dirty look as I put my stuff down and shuffled to my seat. Hyperthermic from all the running, I was dripping for the first half hour of the exam. It took awhile to reacquire focus. Lucky for me, the exam was 50 multiple choice question and 3 hours long. I finished in two. At least half of my class was gone after an hour and a half.
The examination itself was fairly challenging - definitely harder than the 2008 and 2007 multiple choice questions. Hopefully my score will come out to my satisfaction, but I've already noted a disappointing number of errors. Also unexpected was the fact that we were not allowed to keep our test papers at the end of the exam, which meant that we could not effectively compare our answers. Deprived of instant gratification, my friends and I were left racking our brains for questions we could remember.
We headed to Pickle Barrel for lunch and then crashed at
J-Rock
's place for the afternoon. It was
Kon
's birthday on Sunday, so we were the distraction whilst the celebratory preparations were being made. Meanwhile,
Kushima
and
Maximus
were making purchases on our behalf.
The afternoon started off with some Texas Hold'em. It was only my second time playing, and I'll be damned if that game isn't addictive. I can see why gambling is a vice.
Stewie
was keen on having a $5 buy-in; but I was already a little short on cash for the day, so I only bought $2 worth of chips, putting me at a starting disadvantage. A few fortuitous plays later, the gap had closed, and I brought my net worth up to a solid $5. But as is so often the case with gambling, it was easy come easy go... edged out by a near-miss hand that I'd gone "all in" with. Finished.
J-Rock abstained from our little poker game (J-Rock apparently doesn't play poker anymore because his brother became so much better than him that he's just plain resentful now), and Kon joined in late. Kon took full advantage of his birthday boy status and spent the first half hour ordering J-Rock around like his little bitch. "I want to watch Supernatural on your TV!" "Why is your Internet so slow?!" "Okay, click that! Click it!" "Okay, you're done. You can go take a nap now." Mild mannered
Honger
by day, snappy
dominatrix
by night.
Then there was Big Two, a distinctly Asian game. With a penalty of ten cents a card, I managed to come out on top of the pack and pocket about $2.50... A
fifty cent
net gain for the afternoon? Boy, big stakes (not that I was really keen on bigger ones).
Things started to go stale from there. We ended up watching two
seminal episodes
of Star Trek: The Next Generation while going hungry and waiting for the rest of the crew to assemble. Unfortunately, while everyone was trying to watch, they were also trying to talk. The flashing screen and zillion high volume criss-crossing conversations gave me a pretty serious headache.
Finally, it was time to eat. Kushima and Maximus had arrived with a cheesecake in tow. Everyone headed over to Asian Legend, a veritable gem of cleanliness buried in the sketchy bowels of Chinatown. The food was awesome. There's nothing like
siu long bao
to wash away the bitter aftertaste of
PBD
.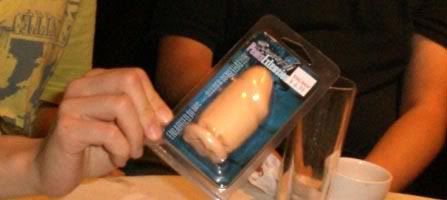 Then came the gift giving. We had, apparently, purchased Kon three gifts - two serious and one gag. Among the serious gifts were a classy CK cologne set and a beautiful dress watch. The gag gift, which left us all agog, was a $7 penis extension purchased from... who knows where.
Andy: What is that?

Stewie: It's a penis extender.

Andy: ...how's that?

Stewie: It's like a condom, except with an extra bit at the front.

Andy: So... it's like high heels... for your penis.

Stewie: Essentially.
I think that eventually this image will get removed from my PhotoBucket account for violation of the terms of use, as happened when we bought Kushima
breast-shaped stressballs
.
After we had sufficiently goaded Kon about his gift, it was cake time. The Asian Legend staff had been kind enough to refrigerate our cake and also were kind enough to serve it to us. Cheesecake is awesome.
The evening's plans came down to a toss up between class party and karaoke. Kon seemed to have little preference for either, however, he was going to lose the majority of the crowd if he opted for party. Along the way to sing K, he changed his mind and vetoed the idea. Instead, we were redirected to the much more frugal destination of J-Rock's condo once more.
I hung out for a bit while
Yubin
,
Mello
, and J-Rock practiced worship songs for today's Medical Christian Fellowship meeting, which was pretty fun. I bailed out once J-Rock and
Kaiba
made the switch over to Backstreet Boys.
When I headed back to the living room, there was poker in play again.
Andy: What's going on?! You're playing poker without me?

Wrex: Hey, you were busy singing to God or whatever.
I came in with another $2 buy-in and did pretty well (top picture). However, I was again again devastated by an almost-all-in hand. Despite having a beautiful Straight after the flop, I was undone by Kushima's own slightly more powerful and uncannily improbable Straight. There was no coming back from
that
. I finished the night at a $1.50 deficit. Stewie went on to win the game again. What a hustler.
Oh yeah, and my phone dangle broke while we were at dinner. Stupid ninja finally escaped. I'm so sad.