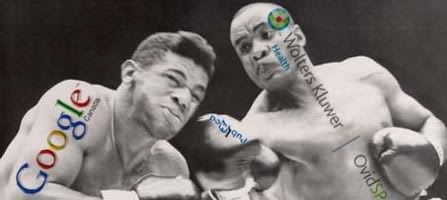 The
Showdown of the Scholars
has come to a close, with Research Databases and Google Scholar laying the knowout blow on frank Google searches. Research Databases come out as the heavyweight champions here, proving that my friends, much as they might deny it, do their literature searches the right way... for the most part.
In total, 14 respondents entered the arena, answering two questions apiece. Here are the results:
Round 1 asked respondents to check off any and all methods they utilized for literature search from the following options: Research Database (Ovid, Medline, EMBASE, etc.), Google Scholar, Google, direct from Journal Website (e.g. via Elsevier), or Other.
12/14 used Research Databases (85.7%) [the winner]

10/14 used Google Scholar (71.4%)
5/10 accessed direct from Journal Website (35.7%)
4/10 used Google (28.6%) [the loser]
Sorry,
Kushima
, but your champion got KO-ed in Round 1.
Sandlot
selected Other, opting instead to search literature by hiring killer robots. Silly Sandlot, you don't pay killer robots. They're slave labour.
Round 2 asked respondents to choose their
most preferred
method of conducting scholarly literature searches from the same options.
7/14 chose Research Database (50.0%) [the winner]
5/14 chose Google Scholar (35.7%)
1/14 chose Google (7.1%) [was that you, Kushima?]
0/14 chose direct from Journal Website (0.0%) [the loser]
Sandlot preferred "Hired Killer Robots that don't go AWOL and Turn Against Me." I agree, this is always a legit risk.
So, in the end, most scholarly research takes place through accepted Research Databases (Medline, PubMed, EMBASE, or Scholar's Portal) or through Google Scholar. Journal Websites and Google are supplementary resources, and all is well with the world.
That's what I said all along.
QED
.

This entry was
adopted
by Brutus.