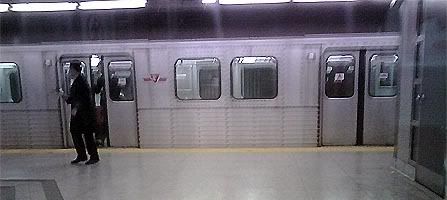 At 5:29:45 (Mountain War Time) on July 16, 1945, in a white blaze that stretched from the basin of the Jemez Mountains in northern New Mexico to the still-dark skies, "The Gadget" ushered in the Atomic Age. Upon witnessing the explosion, its creators had mixed reactions. Isidor Rabi felt that the equilibrium in nature had been upset as if humankind had become a threat to the world it inhabited. Robert Oppenheimer, though ecstatic about the success of the project, quoted a remembered fragment from the Bhagavad Gita. "I am become Death," he said, "the destroyer of worlds." Ken Bainbridge, the test director, told Oppenheimer, "Now we're all sons of bitches."
So that quote's not quite as described in this week's
FlashForward
.
..
Last night, I headed over to the Toronto Centre for the Arts to see the stage musical
Jersey Boys
(which I thoroughly enjoyed!), based on the true story of
Frankie Valli and the Four Seasons
.
The show was set to start at 8 PM, and I'd arranged to meet
Mello
and
J-Rock
(who ditched us to
play Modern Warfare 2
work on his DOCH ILP) for dinner at 6:30. I left the house at 6 PM, which should've given me more than enough time to make it.
However, as I turned off my street, traffic was backed up as far as I could see. I can only guess that there was a traffic accident of some sort. I drove ploddingly along for one block, then turned off and doubled back in the opposite direction so I could take an alternate route. 10 minutes lost.
I charted the most direct course to the subway station from my reroute, which took me through a familiar set of side streets. But halfway there, traffic thickened up considerably - slowing once again to a crawl. This time, I had to chalk things up to rush hour volume.
As an aside, when your car is rolling along slower than you can walk, you can't help but consider what a flawed system we've created. Of course, much of the problem lies in human reaction time. If all our cars were synchronized and driven by computer, the minute a light turned green, every car would start moving simultaneously. Instead, it takes cars at the back of a long line eons to receive the ripple "go" effect... by which time the light may again be red. Oh and also: stop signs on crowded streets do not work.
I made it to Finch at 6:30. Mello called me to indicate her arrival at North York Centre, but I still needed to catch the subway one station south. Traffic had made me tardy!
I rushed down the stairs toward the station platform and heard a familiar door chime. In front of me, a tall Korean fellow made a run for it,
whoosh
, sliding into the subway train just before the doors slammed shut. Curses, just missed it!
I walked over to the other side of the platform to wait for the next train. As I stood there, still troubled by my lateness, it dawned on me that there were an unusual number of people waiting with me considering that the train had only just closed its doors.
I looked back in the other direction and noticed that the tall Korean boy seemed to be the only one on the train. Neither did the train seem to have any intention of leaving. The "Next Train" sign was stalwartly flashing in my direction. Could K-boy have rushed headlong onto an out of service train?
Indeed, by this point it seemed that K-boy too was detecting that something was amiss. As he stood there, staring out the door, he paced back and forth a few steps as a nervous grin crept on to his face - the same "this must be a joke" grin that the boys get in movies when
Jun Ji-hyun
does something really crazy to them (like
handcuff them to herself
).
At that moment, the sound of the next train pulling up on my side of the platform became audible. My tardiness still hovering above my head, I stepped closer to the edge to wait for it.
Wait! My blog!
I turned around, whipped out my phone, and snapped a speedy picture of the trapped K-boy.
Blurry...
I stepped onto the train and sat down by the window. Pulling out my phone one more time, this time with a steadier hand I pointed and...
Hey, you, get out of the way...! Hmm, he's got the doors opened a slit now. Man, I hope he doesn't come over here and yell at me for taking pictures of him.
Click. Snap.
Then, the doors closed and the train left. As I left K-boy and his unfortunate predicament behind, my cogs in my brain began to turn again, and it started to sink in what had just happened. I'd seen a person get into trouble, and I'd been so preoccupied with my own lateness that I just left him behind.
Okay, so that's not very Good Samaritan of me, but not exactly unusual. I mean several dozen other people did the same thing.
However
, not only had I left him to suffer his own fate but I'd been vulture-like enough to take not one, but
two
photos for my blog!
Boy, I felt bad. Real bad.
I saw a stranger in distress. I didn't help him. In fact, I exploited his situation for my own (and your) amusement. This, I considered, warranted some serious reflection on my own character.
I mean, I like to consider myself a nice person. Certainly, I'd go out on a limb for any number of my friends. Yet when it came to the stranger I had no connection to... I was, well, Jerry Seinfeld.
I told this story to Mello after I met up with her. After she'd recovered from the original "oh my gosh" face and wiped off the "this is funny" grin, she paused to reassure me that in our society it's pretty normal not to stop and help strangers and indeed we don't necessarily expect strangers to help us.
"I think if I was in trouble, I'd hope someone would help me," I countered.
"Yeah, but then you would look like you wanted help."
"That's true," I considered, "I suppose if he had flailed his arms or tried to get someone's attention, I might have gone over... but I took a
picture
."
"Well that was for your blog. That's different."
True, I am a slave to my blog. So that made me feel a little bit better. And based on my photographic evidence, someone did stop to talk to K-boy once he started prying the doors open... though that could have been
me
.
Still, that unsettled feeling in my gut tells me that this was not a proud moment and that perhaps I am not the person I ought to be.
...but it was a pretty good catch, eh?