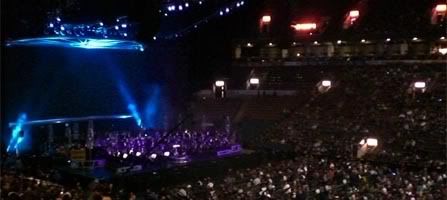 Last night,
Sydney
and I went to see the one-night-only showing of
Star Wars in Concert
at the Air Canada Centre. Sitting in on the sweeping classical score of the Star Wars
hexalogy
performed live by the Royal Philharmonic Concert Orchestra was going to be
legendary
.
I left home at 4:30 PM and dropped off my car at Finch. It was rush hour, so driving all the way downtown would have been murder. I met up with Syd at the CBC on Front St., where she's working on
Test the Nation
(also check out Syd's walkby in episode 210 of Being Erica: 18:29 and 22:45 in the jean skirt). I took the opportunity to snap a photo with
Mr. Dressup
's treehouse in the foyer. That's right. Mr. Freaking. Dressup.
Sydney had recruited me to attend a
Toronto International Film Festival
volunteer appreciation "party" with her, where we were supposed to grab some free eats before proceeding onward to the concert. Pizza was supposed to arrive at 6 PM, however, when we got there, there was no food to speak of. Instead, we sat through a lengthy programme that included a religious satire short film, a photo session, and an incredibly boring talk by a verbose filmmaker who went on
ad naseum
about the quirks of digital versus analogue and why films run at 24 frames per second.
The pizza arrived at the beginning of the boring guy's talk, but nobody would let us eat! Eventually, we had to leave hungry. At least they gave us a loot bag that included a Stella Artois beer glass, a TIFF notebook, and a DVD of student short films. Syd and I scrambled over to the Air Canada Centre and scarfed down a Big Mac Meal in a record three minutes before heading in for the show.
They were selling programmes for $30 at the door. Sydney was really tempted to buy one because she's an even bigger fan of useless paraphernalia than myself. Somehow, though, she managed to resist the urge to buy. The vendors were also supposed to sell lightsaber keychains for $10 each, but they were sold out by the time we got there. Those luminescent little bastards would come back to annoy us later on in the show.
Believe it or not, this was actually my first time at the Air Canada Centre. I've been to the Skydome (a.k.a. Rogers Centre) numerous times for various conventions and sporting events, but I've never been to the ACC! I do think that my family went to see a hockey game when I was little, but I have only vague memories of it and am fairly certain it must have predated the Air Canada Centre. Maybe not, though?
Apparently, I'm not the only one who thinks Star Wars is the stuff of legends, because the ACC was completely packed. This is impressive, considering it's a facility that has a capacity of over 18,000. It's even more mindboggling when you consider that neither Syd nor I had seen any advertising for
Star Wars in Concert
anywhere in the city. We wouldn't have even known if Sydney wasn't signed up for TicketMaster e-mail updates.
The concert was really more of a show or event than an actual concert. Being held in the ACC meant that food and drink was allowed (and sold). People liberally handled their cameras (which allowed me to also get some snapshots). Additionally, people were generally less reserved and proper than in a typical classical music showing, and there were no ushers to silence the rowdy or annoying.
Of particular concern were the lightsaber wielding fanboys and girls who lit up like a chain smoker everytime the lights went out. For the most part, these lightsabers were the keychains that were sold before the show, but some people had brought genuine props. For the most part, people only waved their weapons of mass evisceration around at the end of songs when the lights faded out, quickly silencing their blades as the next song began. However, a few less considerate folk remained bright almost permanently, thus a few waving lights could be seen in the crowd at any given point. This included the annoying little kid beside us, who was relatively well behaved for the first half of the concert on account of the fact that he had dropped and broken his keychain. However, by the second half his pops had fixed the offending toy, and boy oh boy was that boy annoying. After a few songs, I had half a mind to pluck the damn thing out of the kid's hand and declare, "I'll give this back to you when you learn to behave." It's like those people who light up their cell phones right in front of me in the middle of a movie... makes me want to kick the head of their chair. Of course, I sympathized with the child's boredom, and I restrained myself both because I'm a nice guy and also because the kid's dad probably would have tried to beat me down.
The actual show was amazing. The beautifully crisp and grandiose sound of the live orchestra floated outwards in all directions, saturating our ears with its classical magnificence. Each piece was tied together by a narration presented live by none other than Anthony "C-3PO" Daniels himself. To accompany the music, wonderfully woven scenes from the films projected on a massive screen behind the orchestra and also on the JumboTron. Interspersed with dialogue and following the most exciting and seminal movie moments, the clips drew together a concise narrative of the six films, following the life of one Anakin Skywalker from start to bitter end.
Sandlot
had encouraged me to dress up for the event, but I resisted the call. There's only so geek I will go. That's not so for all people though - and those who did dress up became star attractions after the show, with reams of people lining up to take photos of them and with them.
"Hey, if we dress up, that could be us," I commented to Sydney. She did not seem impressed.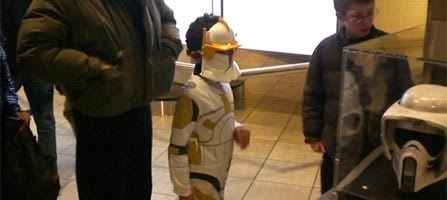 J-Rock
was also at the show with one of his former housemates. Having always been covetous of a particularly awesome photo I took at
Fan Expo in 2008
of myself being held at gunpoint by Imperial stormtroopers, he took this opportunity to take an analogous photo. However, in his picture, the hostage taker was none other than a tiny clone trooper I saw floating around after the show.
"
Aren't you a little short for a stormtrooper?
"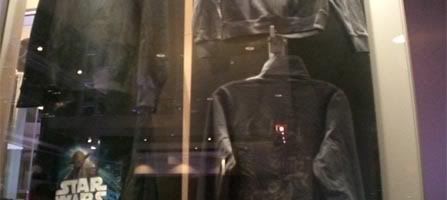 After the show, Syd and I stopped to browse the available merchandise. J-Rock had gone all out, spending $50 on a black
Star Wars in Concert
hoodie (left) and an additional $10 on a lightsaber keychain. For my part, I was interested in the slightly more subtle grey
Star Wars in Concert
sweater depicted on the right, which amazingly retailed for a whopping $80. Bollocks to that.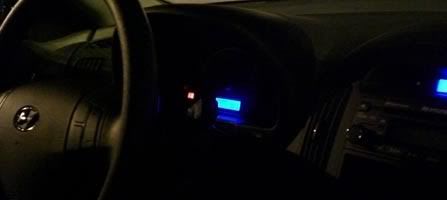 At the end of the night, Syd and I headed back to our respective homes out in the burbs. She'd parked on the opposite end of the subway line, out in the ghettoness of the Downsview side. I offered to head back up that way with her, and she agreed to drop me off at my own car at Finch.
Indeed the West side of the loop is quite a bit sketchier than the East side, and when we arrived at the parking lot at Wilson station, we made our way through a desolate outdoor tunnel (with random clothing scattered about the ground... pretty sketch) and up a flight of stairs to an equally desolate parking lot. "This is actually a lot better with someone with me," Syd commented. I guess that leaves her feeling somewhat uncomfortable the other six days of the week.
News of the week is that Syd just got a new car - a shiny black Hyundai Accent. I, apparently, was the first person to ever ride shotgun in it, which made me rather pleased. But what impressed me even more was that Sydney was paying down the car on her own, and she had also taken out a mortgage on a condo downtown. Damn, she is so cool. It's kind of depressing how people I graduated high school with can be like fifteen years ahead of me in terms of life stage. At least Syd has resisted the adult compulsion to become a boring drone who only talks about cooking and home decor.
So overall, a pretty awesome night.
Star Wars in Concert
brought back to me all the geekish wonder of a twelve year old, reminding me that:
The Force will be with you... Always.