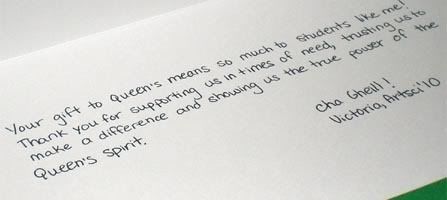 Hi Victoria, Artsci '10
Thank you for your heartfelt and handwritten message hidden inside a desktop calendar. I'm glad that you think that despite having zero income and paying out a cool $19k annual tuition, I'm still in a position to help you through your undergraduate degree.
I sympathize for why you might need this kind of financial aid, since Queen's has just about the highest tuition in Ontario and spends their money frugally buying shoddy looking aluminum statues for thousands of dollars to decorate the front lawn of my residence building.
But given that you're graduating this year, I doubt my Monopoly money would do you much good anyways. Unless what you mean by "means so much to students like me" is that handwriting these notes to me is actually a paid job for you and in that way I'm helping to fund your tuition, in which case, you're welcome... I guess.
I'll tell you what, hit me back in ten years and maybe I'll be in a position to help out. Of course, by that time, you'll probably be on the receiving end of these money solicitations rather than dishing them out. Until then, feel free to continue pestering my parents instead.