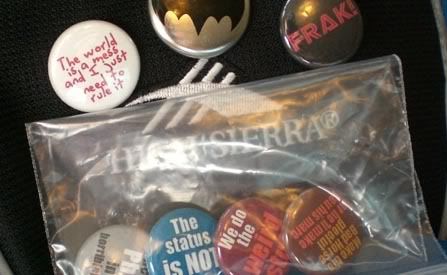 The second-year medical class is an ocean of ubiquitous and iconic blue backpacks. Even so, we all need a way to distinguish our own.
J-Rock: How come your backpack has three pins now?

Andy: Because I got new ones for Christmas.

J-Rock: But what if you lose them, like what happened to your Superman pin? Then you'll lose all three at once.

Andy: Don't worry, they aren't coming off this time. I learn from my mistakes.

J-Rock: Well, they don't necessarily need to fall off by themselves... someone could steal them.

Andy: ..................

Andy: Why, are you planning to steal one?

J-Rock: I was thinking of stealing the Batman one.

Andy: Anyways, they aren't coming off by themselves. Take a look.
[ J-Rock leans in for a closer examination ]
J-Rock: Pfft... glue isn't going to keep them from coming off! You glued them shut, right?

Andy: Yeah, with a glue gun.

J-Rock: Ah, I have a Swiss Army knife in my bag. I could cut that off easy!

Andy: ..................

Andy: Well obviously if you

cut

it...

J-Rock: Although, you'd have to stand still otherwise I might accidentally cut

you

.

Andy: Typical Scarborough upbringing.
So G.