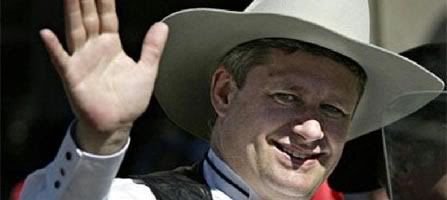 Dear Canadians,
Please shake off your apathy and grow a pair of eyes and ears. Your country is here, not south of the border, and it would be in your best interests to care. For those of you who have been asleep through the latest round of Canadian politics, pay heed to the recap:
[ # 1 ] Parliament is currently prorogued.
That is, the government is on holiday. Stephen Harper has asked the Governor General to dismiss parliament early and have them reconvene in March. Harper did this
last year
as well, to save his government from a coalition poised to topple him shortly after being elected. True to his strategy, a few months with no government allowed Canadians to forget about all the shit that Harper had done. In fact, most Canadians don't really pay attention
to begin with
.
Why this time? There are two reasons. Firstly, it will give Harper time to shore up support by seizing on the Vancouver Olympics. By taking every opportunity to take credit for this joyous event and taking every chance to squeeze in a prettifying photo-shoot, Harper's popularity will shoot up as it often does. Secondly, it will put off the messy inquiry regarding Afghan prison transfers. Embroiled in calls for an inquiry into whether Canada knowingly handed over prisoners to be tortured, the easiest way to scuttle the problem is to dissolve the parliament in whose hands these proceedings lie. Well played, Monsieur Harper.
[ # 2 ] Stephen Harper can get away with murder(ing democracy)
Michael Ignatieff (a gifted scholar, though not a gifted politician)
summarizes
Harper's recent record quite neatly:
"Just over a year ago, he prorogued Parliament just weeks after an election - in order to rescue himself from an unprecedented political and constitutional crisis of his own making.
He has lashed out at public servants - like Richard Colvin, in the case of the detainees - for daring to speak the truth, and cowed others into silence.
He fired Linda Keen, the head of the Nuclear Safety Commission, for blowing the whistle on the repairs needed at Chalk River to ensure the reactor's safety.
He starved Kevin Page, the Parliamentary Budget Officer, of the necessary resources to do his job because he was critical of the poor management of our public finances under this Conservative government.
He let go the heads of both the RCMP's Public Complaints Commission and the Military Police Complaints Commission. Both were competent individuals, doing their job with distinction. But both had a serious flaw in Stephen Harper's eye: they were critical of the government.
He cut off public funding for the ecumenical charitable group KAIROS, despite their lauded work and broad public support, because, according to one of his ministers, they held dissenting views from the government on foreign policy.
This approach to government - intimidating all who stand in its way - can have severe and corrosive consequences. Look at our nation's capital today: a cowed and demoralized public service and a constantly bullied national press gallery, both trying to serve a disenchanted public."
[ # 3 ] Canadians are easily distracted
Whether it's singing the Beatles with
Yo-Yo Ma
or taking tea with
Dashan
, Harper knows how to brush off his political woes with media shows. Canadians, for the most part, eat it up.
[ # 4 ] Our Governor General is bollocks
Michaelle Jean is the Queen's representative in Canada. It's a solemn and (at least in title) important role. With it come a variety of vestigal powers and parliamentary responsibilities. Yet, while Jean presents a warm and lovable persona to the GG role, she seems to know (and care) so little about what is proper.
Led by emotion, rather than protocol, she can often be caught tearing up over a variety of topics, or making a big
media fuss
over smallscauce (like eating seal meat). Jean's predecessor, Adrienne Clarkson, who performed the role with a much higher degree of knowledge, professionalism, and gravitas commented at that time: "I've eaten raw food here since 1971. It's nothing new to me, okay?"
When it came time to greet Prince Charles and his wife Camilla, Canada demonstrated its general lack of tact through the Harper and Jean duo. Harper stole the speech lines right out of Charles' own. Jean got all
touchy feely
with the royals, which apparently is a big no-no. Wait, as the Queen's representative, shouldn't she be familiar with these basic protocols? Oh, you know, that's just the sort of gal she is: touchy feely and improper. I'm sure Charles was left wondering what had happened to this polite little former-colony of ours.
So when it came to proroguing parliament, Jean has done more or less what one would expect she would - accede to Harper's wishes.
[ # 5 ] The alternatives are slim pickings
Let's face it, Ignatieff has done little but sit on his hands (his
good looks
, according to
Sandlot
, won't save him from that); and sad as it is, nobody is going to elect the NDP into government (not while their policies involve things like immediately shuttering the tar sands and crippling Canada's economy). As James Travers astutely notes: "
In the absence of a persuasive alternative, even Canadians cool to the Prime Minister and his policies have no compelling reason to roll the dice on change. A country that considers muddling along a success is content with a Conservative leader taking care of business.
"
Canada is a nation that lives and dies with the principles of peace, order, and good government. Will this be the end of more than a hundred years of parliamentary tradition? It's your job to care.
Your concerned fellow citizen,
Andy