So much studying left, so little time! On the plus side, I managed to swing a pass (70%+) on the 2008 practice exam. Whether we can turn this into reality on game day remains to be seen. My goal for today, obviously, is to provide myself with a knowledge buffer so that the fluke factor doesn't screw me over come tomorrow.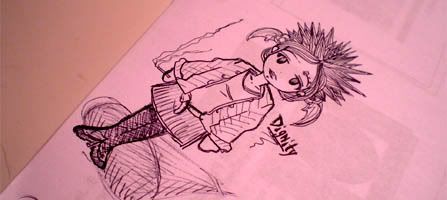 As usual, studying provides me an opportunity to look back at all the interesting doodles I drew on my lecture notes while paying keen attention to the speaker. This particular sketch is modeled after a homeless youth depicted in a video we saw. It reminds us to treat street youth with
dignity
.
When lectures are particularly exciting, my doodles take on a life of their own. You finish drawing one thing, and time being still abundant, you move onto something else. What gets depicted is an elaborate and often ridiculous scenario. Here, on the left we can see some sort of little girl with a tempting Devil on one side and an Angel on the other. Overhead, flies a paper airplane towards an origami crane (or maybe a pterodactyl). Underfoot a robot beep-beeps towards some kind of machine (HCO = bicarbonate?). On the right,
Pikachu
sits on a
Stop
"Werd Up" sign while... yes,
Greymon
(circa 1999) breathes fire. I'm a geek. Leave me alone.