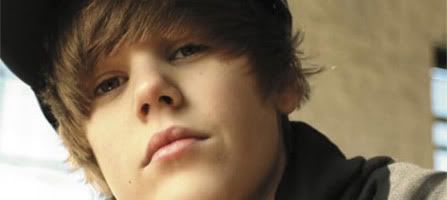 Justin Bieber is the latest incarnation in a long line of prepubescent popstars conceived of in the spirit of Aaron Carter. He first appeared on my radar as an annoying Cineplex theatres pre-show feature, which ran with just about every movie last year. According to the feature, Bieber began as a YouTube sensation before being wooed by both Justin Timberlake and Usher to sign on with their respective labels. He chose "his idol" Usher (and in his first music video "
One Time
", is portrayed to be buddy-buddy with the icon - "JB, wassup man?").
There's a lot to dislike about Justin Bieber, and I've certainly stacked my case against him. There's his tweenage target audience, his
B-cheese
music videos, and the fact that the girls in his videos looks at least five years older than him. Then there's his ridiculous appropriation of terms like "
shawty
", the use of a
swagger coach
to manufacture himself into an icon, and the fact that he'll probably grow up to be a
fat, ugly, acne-laden reality TV star
(puberty is a real wild card). And who could forget my
girlfriend
's unhealthy obsession with the boy?
I'm in good company in feeling this way. Plenty of self-respecting people across the Western world find Bieber's
overnight stardom
and prepubescent pitch to be outright
intolerable
.
That's what makes it downright disturbing that I find Justin Bieber's latest single "
Baby
" to be, well, damn catchy. The sound hits all the right buttons, upbeat with a likable juxtaposition of high and low voices. The video has a polished look to it, with beautiful lighting and colours, slick camerawork, and a natural feeling groove. Bieber himself has upped his game - leaving behind the one-finger salute of "One Time" and "One Less Lonely Girl", he's picked up some legit dance moves, expanded his repertoire of facial expressions, and styled up. Maybe I should get one of these swagger coaches? There's an easy vibe and contagious energy, from the roll-over pool table move to the pushover break dancers. Then of course, there's the inclusion of Ludacris to offer JB some street cred. All in all, a pretty solid play.
Damn, somebody get this song out of my head so that I can go back to hating on this kid. I think I'll steal his shoes while I'm at it.