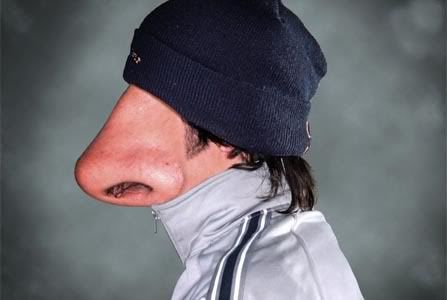 I mentioned in my most recent post that I've spent the last very precious week with my girlfriend,
Sandlot
. While away, I've taken to using a
D&G
Pour Homme bath/shower gel that came in a gift set I received some time ago (bath/shower gel, cologne, and aftershave). Packing my own body wash was key in order to ensure I can travel the world smelling
like a man
and not like
peaches 'n stuff
. Apparently, D&G makes some powerful stuff because the rest of the week played out something like an
Axe
commercial.
What happens when your girlfriend who thinks you smell as good as
two tickets to the thing she loves
(re:
Old Spice
) rips your computer out of your hands and fiddles with all your already-logged-in Internet accounts? Irreparable damage to your reputation, apparently.
Here's my Twitter feed from March 17th. Yes, these are all posted on my account - it's like a schizophrenic conversation. Then came
Pomme
's reaction (one of my few IRL Twitter followers):
My bad. No wait, it's not my bad - it's Sandlot's bad. My only bad is smelling outrageously good.
Then came this new box, conspicuously appearing on my Facebook page. Admittedly, only Facebook creepers who actually check my page (and not just the News Feed) would notice it. Incredibly, that only took a few minutes.
Oh dear. So, let's set the record straight here - I don't sniff myself. Sandlot is a
shit
sniff
disturber. I'm on a horse. 2/3 of those statements are true.